Hazing Investigator Certification | Hazing Conduct Administrator Certification
This certification course is designed for professionals who oversee community-wide or organization-wide educational initiatives for the prevention of hazing. The certification explores multiple models for prevention with the goal to empower educators with industry-leading best practices to address this critical issue within student populations. There will be a focus on assessment and long-term benchmarking, and tangible stakeholder engagement strategies.
As a result of participating in the Hazing Prevention Educator certification, participants will:
Be able to apply the public health model to the prevention of hazing
Be able to develop assessment strategies to benchmark understanding of hazing within a community/organization
Be able to conduct, and analyze hazing-related risk assessments to a community/ organization
Be able to develop a customized, holistic plan for hazing education
INTRODUCTION ONLINE COURSE
All attendees will engage in a multi-module online course that provides a foundation framework for understanding hazing investigations. Attendees will proceed through this course at their own pace and have access for 90 days.
RECORDED VIRTUAL TRAINING
Watch the recorded discussion from the day-long virtual training. Learn from experts in the industry and dive deep into the material. Attendees will have 90 day access to a recording of our Virtual Training From December 2020.
CERTIFICATION FORMAT
REGISTRATION FEE: $750
Participants interested in all three certifications can register for all programs for $2,500 (Value of $3,750)
Please contact CAMPUSPEAK directly for institutional or organizational group pricing.
Participants will receive an invoice upon completing their registration. Registration can be paid via check or credit card.
REGISTRATION INCLUDES
Introduction online course
Recorded Daylong virtual training held in October 2020
Interactive, Hands-on Training
All Participant Materials
CERTIFICATION FACULTY
Travis Apgar serves as the Assistant Vice President for Student Life & Dean of Students at Rensselaer Polytechnic Institute. He holds advanced degrees in psychology and education administration and has received national recognition as an outstanding student affairs professional. Considered an authority on hazing prevention, Travis is a member of the Board of Directors for HazingPrevention.Org. He has contributed to the National Hazing Prevention Week Resource Guide, assisted with the development of the NCAA Hazing Prevention Handbook, appeared in Haze; a documentary made available by the Gordie Center, and as a guest on PBS NewsHour and HuffPost Live.
---
Dr. Jamison Keller serves as the Assistant Dean of Students and Director of Greek Affairs at the Georgia Institute of Technology. He received his bachelor's degree in psychology from California State University, San Bernardino, and his master's degree in education from Azusa Pacific University. He also earned his doctorate in education from the University of Southern California. He developed and serves as the lead facilitator for the Interactive Workshop, Crossing the Line. Jamison is a long time volunteer and a member of Sigma Nu Fraternity.
---
Dr. Monica Lee Miranda serves as the Director of the Center for Student Involvement at the University of South Florida. She received a Bachelor of Science degree in Spanish with a minor in psychology, a Master of Science degree in educational administration and policy studies from the University at Albany, and a Doctor of Philosophy in Educational Leadership/Higher Education from the University of Rochester.  Monica is a past President of the Association of Fraternity/Sorority Advisors and is a member of Omega Phi Beta Sorority. She served as the Inaugural National Vice-Chair of the National Association of Latino Fraternal Organizations. For her tireless service to the fraternal experience, Monica was awarded the Association of Fraternity Advisors highest honor for a campus-based professional, the Shaffer Award, in 2019.
---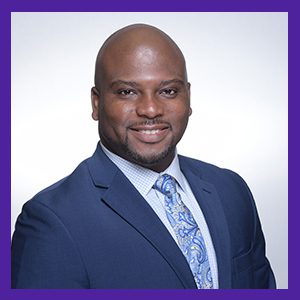 Dorsey Spencer Jr., Ph.D. serves as the Dean of Students at Colgate University in New York. Previously, he was the Director of Administration for the Division of Student Affairs at Florida State University. He held several positions at the institution, primarily focused on student involvement and activities. While at FSU, Dorsey led the University's hazing prevention initiatives for 4 years promoting awareness, education, accountability, and assessment, particularly amongst student organizations, leaders, and advisors. He also served on the Health and Wellness Executive Committee and oversaw the Fraternity and Sorority Life Advisory Council at FSU. Dorsey has participated in the HazingPrevention.Org Institute as an attendee and a Fellow.
---
Dr. Suzette Walden Cole is a professional speaker and consultant, tackling the topics of conflict resolution, sexual misconduct, risk management, and social justice. Suzette received her BA in political science from Mercer University, and her master's in higher education administration from the University of South Carolina and received her doctorate in philosophy from Illinois State. Her dissertation studied the factors that contribute to the development of culture in the National Panhellenic Conference Sorority organizations.
---
Tim Wilkinson, M.A., serves as Wake Forest University's Associate Dean for Student Engagement. In this role he oversees student organizations, the fraternity and sorority community, Student Government, campus activities, leadership programs and major campus programs and traditions. Previously while serving as the Senior Assistant Dean of Students at Lehigh University, Tim chaired the University Hazing Coalition.  Tim holds a BA in Speech Communications from West Chester University, an MA in Human Services Administration from Rider University and is working towards an Ed.D in Higher Education and Adult learning from Appalachian State University. In 2015, Tim was a recipient of the AFA Sue Kraft Fussell Distinguished Service Award.
ADDITIONAL QUESTIONS?
Please email info@campuspeak.com with any unanswered questions.