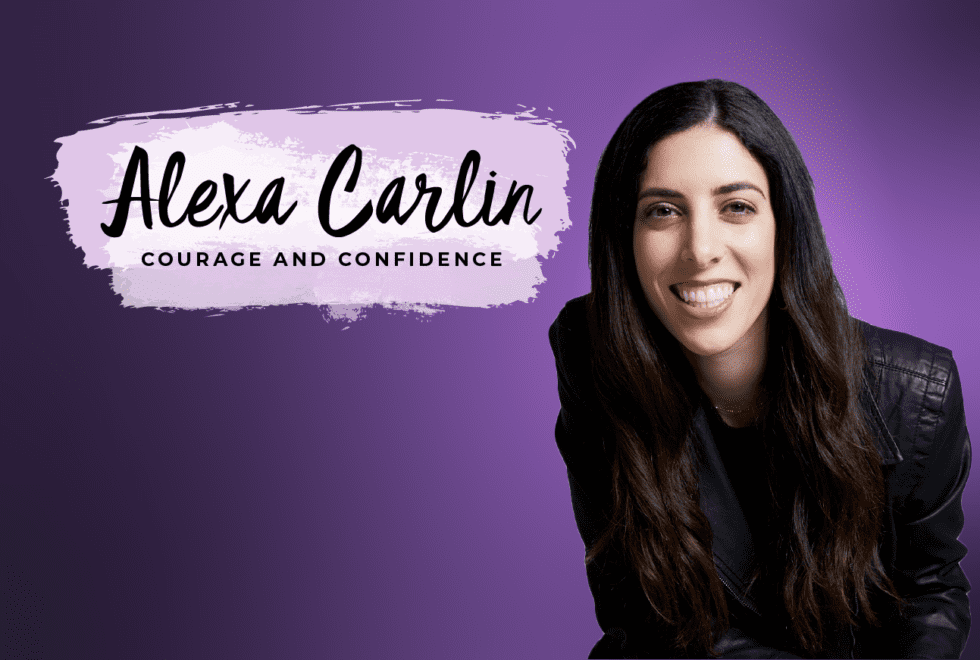 Alexa Carlin
Alexa Carlin is on a mission to make a difference in at least one persons life every single day. Through her authentic energy and impactful stories, Alexa empowers students to push through obstacles, develop a positive mindset, and build unwavering courage and confidence.
TOPICS
---
Authenticity
Character Development
Fraternity & Sorority Life
Leadership
Motivation & Inspiration
Personal Growth
Recruitment
Self Esteem
Women's Empowerment
KEYNOTES
---
Alexa Carlin, empowering students to push through their obstacles.
Getting to know
Alexa Carlin
Alexa Carlin is a nationally-renowned public speaker, Founder & CEO of the Women Empower X, and author of the book Adaptable. Inspired by her own entrepreneurial pursuits, Alexa founded WEX with the mission to help more women pursue their passions and get to the next level in their career and life.
Alexa founded her first business in high school becoming the sole licensee to design jewelry for an L.A. based fashion company. This entrepreneurial spirit led her to starting a blog in college, Hello Perfect, which served the purpose of helping young women gain confidence in themselves and attracted the likes of Mark Cuban, Shaquille O'Neal, Steve Madden, Marc Jacobs and other influential celebrities.
In college, only months before graduation, Alexa found herself in a coma with a 1% chance of living. This near-death experience led to a number of health issues but today, Alexa sees this experience as something to be grateful for as it has been her prime motivation and inspiration to share her story authentically with audiences all over the world.
Alexa was featured on the cover of Meetings & Conventions Magazine as 1 of 15 "Young Millennial Go-Getters To Watch" and named one of the "Most Powerful Women In Fort Lauderdale" by Gold Coast's Fort Lauderdale Daily.
She has also been featured on Cheddar TV, FOX, ABC, CBS, OWN and in Entrepreneur, Glamour Magazine, Mashable, and TEDx among others. With a following that reaches over a million people on and offline, Alexa's mission is to make a difference in at least one person's life every day.
THROUGH CAMPUSPEAK YOU CAN PURCHASE ALEXA CARLIN'S BOOK AT A BULK RATE DISCOUNT.
Life's obstacles offer two distinct directions: They can push you backward or fuel you forward. The choice is up to you.
At 17, Alexa Carlin became CEO of her first company, designing jewelry that made a difference, one bracelet at a time. But at 21, she was induced into a medical coma and given a one-percent chance to live. In Adaptable, she shares the stories of her journey, offering powerful insights into hope, courage, and life's challenges.
Written in a heartfelt and authentic tone, Adaptable invites readers to develop a new perspective on their past and current obstacles. The stories, lessons, and action steps that fill each chapter gently guide readers back to their true selves, allowing them to connect deeply to their inner light and shine brightly with their true purpose.
Alexa encourages and inspires readers to use their own challenges not as a reason to abandon dreams, but as a springboard from which to thrive.
PROMOTIONAL MATERIALS
To help you promote your event with Alexa, CAMPUSPEAK has created promotional templates you can use. In this folder, you will find resources for social media, a promotional poster for printing, and press photos you can use for your event.
Link to Promotional Materials
LOGISTICAL MATERIALS
Below you will find logistical resources for the day of your event with Alexa.
In-Person Event AV Needs (PDF)
Speaking Introduction (PDF)
SEE WHAT PEOPLE HAVE TO SAY About Alexa Carlin!
We've had several speakers come to our campus, but Alexa has been one of the most inspirational speakers to date. By sharing her story and integrating it with an action plan, she was able to make connections with our students that will undoubtedly last a long time. Her keynote was engaging and provided individuals with a rewarding experience, knowledge, and much reflection as they continue their journeys. The students and staff have provided us with nothing but positive feedback.
— Le Bailey
Eastern Oregon University
Alexa's passion was amazing and our student participants only had wonderful things to say about their experience. Speaking as a staff member, Alexa was a pleasure to work with! Her professionalism throughout her entire visit to our campus was highly appreciated, and I look forward to the opportunity to have Alexa back to campus as a guest speaker for more of our leadership conferences.
— Xavier Blackwell
University of Missouri- St. Louis
Alexa was a presence that captured my student's attention from the moment she began her program. She is easily relatable and paints a picture of success that is attainable for anyone willing to put the effort into reaching their goals. She was very approachable and easy to talk to and our Panhellenic community was grateful for the time they spent with her.
— Alexis Bonamassa
Assistant Director of Student Activities and Orientation for Greek Life and Student Leadership, York College of Pennsylvania
The student body greatly enjoyed Alexa Carlin's talk. They filed into the room apprehensive and unsure but by the end of the talk left feeling motivated, inspired, and confident. Students had nothing put praise for Alexa and were excited to meet her and get in touch on social media. Her story of trials, tribulations and triumphs proved to students that they can accomplish their wildest dreams and that no goal is out of reach
— Kellie Nostrant
Eastern Oregon University
Alexa was different. She allowed herself to be vulnerable so that her audience could relate to her, so that we could truly understand her story and its importance. Alexa's keynote was truly an experience I won't forget, she is truly an inspiration- a self made success who has made it her mission to help any and everyone she can to better their lives.
— Student
Senior Undergraduate Leader, University of Missouri, St. Louis
Tri Sigma seeks to empower women to change the world, so when we were looking for an opening keynote address for our Recruitment Summit, Alexa was a perfect fit.  She set the tone for the leadership weekend by inspiring the women in attendance to recognize the power of personal confidence.  She made true connections with the students and received only positive feedback.
— Katelyn Whitty
Director of Growth Initiatives- Sigma Sigma Sigma
Turning Obstacles Into Opportunities
You have a goal in mind, an idea you're passion about, a job to do in your organization, but now what? Where do you start? How do you overcome daily obstacles from performing well in school, being involved, making an impact and having a social life?
There will always be obstacles and challenges that come our way and for our entire lives we are taught on how to "overcome obstacles", but Alexa has found a better solution. In this impactful keynote Alexa not only empowers students to get started, but she challenges their way of thinking and provides actionable tools and steps to turn any idea into reality- regardless of the obstacles they face.
Our obstacles can do one of two things, they can either stop us or propel us- Alexa wants to ensure you choose the latter. Audiences will learn the framework on how to push through challenges, develop a positive mindset, and create a customized action plan to achieve any goal whether that's planning a fundraiser for their organization, getting the job of their dreams, or pursuing an entrepreneurial idea.
Learning Outcomes
As a result of attending this program, students will learn:
the three elements to push through obstacles and challenges,
how to develop a positive and healthy mindset for growth,
how a perception of circumstances often dictates reality,
how to identify their strengths and challenge their way of thinking,
how limiting-beliefs influence academic and extra-curricular choices and how to switch those beliefs to positive ones,
how to focus and create an action plan for success,
the importance of focusing on meaningful work and making an impact in the lives of their peers and their community,
how to feel empowered to turn their passion into purpose,
the importance of their own stories and why we need to share those stories with others
The Confidence Spectrum
Let's be honest, being confident is hard. Think back to the last time you felt most confident. What were you doing, who were you with, what do you think impacted your level of confidence?
In today's society, it's so easy to fall into the comparison mindset. Women are inundated with messages and the pressure to be perfect that it can become paralyzing and create an unhealthy competitive environment.
As the Founder of the largest event for female entrepreneurs and change leaders, Alexa has discovered that the key to success is empowering women to collaborate versus compete. In order to achieve this students must first develop their own self-confidence and understand their worth.
In this empowering and inspiring keynote,  Alexa helps students connect and collaborate while offering tools to develop their own self-confidence, learning how to break through the fear holding them back from becoming an authentic leader.
Learning Outcomes
As a result of attending this program, students will learn:
strategies on how to build unwavering confidence,
how to identify when they feel most confident and how they can build upon it when put in new situations,
how to overcome the need for outside validation,
techniques to break through the fear of judgement, failure, and feeling unworthy,
how to create an inclusive and supportive community,
why women need to support one another and how collaboration drives positive change,
the importance of vulnerability and how to practice it,
how to create stronger relationships and the importance of building real connections in their personal and professional life.
Confidence: The Key to Recruitment Success
It's time for recruitment and members, new and active, can already feel the pressure and stress. Why is this? Why does an exciting process like becoming part of a sorority or adding new members to your organization who may become a friend for life cause so much stress? It should be an exciting time but instead, the pressures of society have allowed women to feel doubtful, fearful and insecure. Recruitment has been a process of putting on a "face" to impress other women, instead of opening up authentically and vulnerably to find your true new home.
You get asked the same questions like if you watched the latest season of the Bachelor or what are you majoring in, but how does this really determine if someone is right for your chapter? Unfortunately, pressures from society and greek life have caused many women to go into recruitment putting on a front they think will impress others instead of being their true selves. They dress a certain way, speak a certain way and ask questions that are common to fit in. But isn't the goal of rush, whether you are an active member or potential new member, to find a group of women who will support you, become your friends and help you become the best version of you possible? If we continue focusing on the system of the way things have always been done, we will continue to run into the same problems.
It's time for a change and to achieve this change you must focus on two things, connection and confidence. For true connection to occur, we must change the narrative and begin asking people who they are versus just what they do or like. The other side of this equation is confidence, we must not only be confident in ourselves but we must help other women feel confident when around us. When you can achieve these two things during the recruitment process, you won't only enjoy the process but you will be able to recruit members that truly fit your chapter and create an environment of true sisterhood.
In this keynote, Alexa shares how to achieve connection and confidence during recruitment and shows how to implement small but impactful changes in your chapter to achieve true recruitment success.
Learning Outcomes
As a result of attending this program, students will learn:
how to gain confidence in themselves during the recruitment process
how to create authentic and meaningful conversations
how to identify values of their chapter and how to stand by those values during recruitment
ways to create a positive environment during the recruitment process to help achieve true sisterhood with current and potential new members
Speakers With Similar Speaking Topics