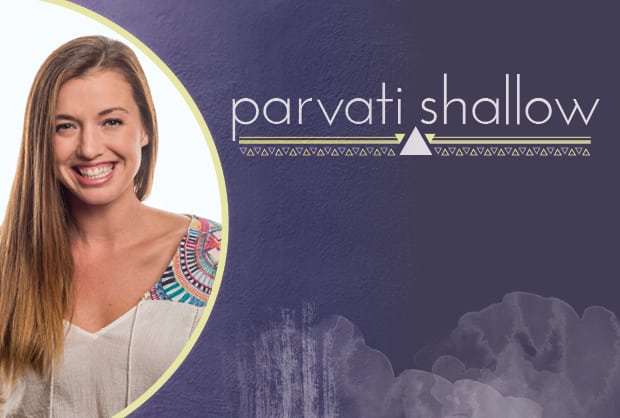 Parvati Shallow
Parvati Shallow, three-time castaway and winner of CBS's hit series SURVIVOR, inspires students to conquer their fears, cultivate meaningful relationships, and celebrate life's adventures.
TOPICS
---
Motivation & Inspiration
Leadership
KEYNOTES
---
Parvati Shallow ventures into the unknown to inspire students to conquer their fears.
Getting to know
Parvati Shallow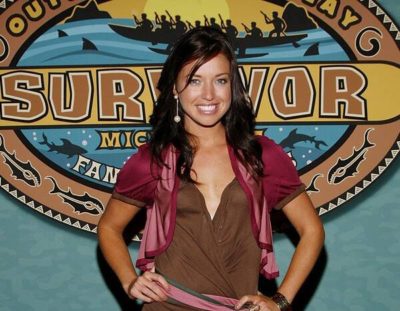 Parvati Shallow is a three time SURVIVOR contestant and winner of SURVIVOR: Micronesia — Fans vs. Favorites, and is widely considered to be the one of the best to ever play. Her elegant approach to the chaos of SURVIVOR resulted in CBS Television offering her a chance to host her own show: Around the World for Free. Having to rely entirely on the good will of total strangers, Parvati successfully navigated her way across four continents without a dime (the show was a hit, too). She
Parvati then took on her next opportunity — moving to New York to write and produce for CBS News. After much success in the newsroom, she left to build her own speaking and writing business but did so on her own terms — not knowing where the next paycheck would come from. Now Parvati will show you how to do the same: recognize your fears, dream big, create opportunity, and capitalize on it — even when doing so means overcoming seemingly paralyzing risk. She is living proof that the payoff is too great not to pursue. Let her show you the way.
SEE WHAT PEOPLE HAVE TO SAY About Parvati Shallow!
From the moment we met Parvati, we knew that the evening's engagement was going to be exactly what our students needed. Parvati's personality is one that is engaging and truly caring as the one-on-one conversations she had with students were in-depth and showed sincerity as seen in the interactions she had with them prior to starting. Since the engagement, I've had a few students that I've seen in the hallways that have indicated their appreciation for bringing a speaker that helped them understand the importance in doing what they believe in and want to do and although fear may be present, be able to find ways to inspire and overcome. It was a true delight to have Parvati at Eastern Oregon University!
— Le Bailey
Eastern Oregon University
Our campus was privileged to welcome Parvati as a guest speaker for our annual Leadership Summit. The goal was to spark some conversation about working alongside uncertainty amongst the college-aged leaders. However, the outcome was so much brighter than a simple conversation. Parvati's workshop was engaging and completely interactive – she capitalized on small group activities aimed at building confidence, leading through fear, and allowing decisions to be made through a deeper understanding of personal values. The students continued to reference her words beyond the scope of the session and I am quite appreciative of the inspiration Parvati provided in such a condensed experience.
— Joel D. Hermann
Director of Orientation and Student Engagement, Fontbonne University
Game Changing Character
College, like Survivor, can be a fiercely competitive arena. Students are under pressure to achieve academically, excel physically and gain popularity. Winning Survivor gave me the chance to understand that success is less about winning at all costs and more about feeling great about yourself and how you play the game. Victory is guaranteed when you are committed to kindness, determined to follow your heart and consistently take courageous action. Sounds simple enough, but it's not easy to do when we're trapped inside our own fear-based thinking.
Game changers know they have what it takes to succeed no matter what the competition because they have strategies to help them overcome fear and self-doubt. These tools are always within your reach, and when you use them, you have the power to create a kinder, more supportive, and collaborative environment anywhere you go.
In short, you have the power to change the world.
Learning Outcomes
As a result of attending this program, students will learn:
Why you shouldn't always believe that voice in your head
The chemistry of fear and how fear is shrinking your life
The antidote to fear and how to become your boldest self
Game changing power lies in practicing the "3 C's" — commitment, connection, courage
How courage is contagious and helps bring out the best in others.
Love Works
Anyone who wants to become a leader, must first cultivate the ability to build meaningful relationships with people around them. Caring for others and proactively putting kindness and compassion first not only makes us happier people, but also helps us to get the most out of our college experience and prepare for the career world. So, how do we become more effective in our relationships? How do we enhance our ability to stand out in an increasingly competitive world? Let's get clear about what it means to put love into practice and create a simple, straightforward path to becoming the change-makers the world so desperately needs.
In the program, Parvati breaks down how to build meaningful relationships while sharing personal stories on how these steps have helped her throughout her life.
Learning Outcomes
As a result of attending this program, students will learn:
how to discover what is stopping you from creating the relationships that will help you to thrive in your life, in school and in your future career

a clear 3 step process to help you connect with others and create meaningful relationships anywhere, anytime

how to break love down into it's component parts and see why love is a verb that takes intention, effort and courage to put into practice.
How to Thrive in the Face of Uncertainty
College students are standing on the edge of the beginning their adult lives. More often than not, they have more questions than answers about what's coming next. The fear of the unknown can be crippling to students who are unsure of their next steps. Parvati has learned that developing the ability to handle an unknown future with both intuition and courage is a skill. With the right tools, any student can learn how to relax and confidently face uncertainty without getting caught up in fear and anxiety. In her keynote How to Thrive in the Face of Uncertainty, Parvati helps students understand the importance of focusing on the things that go right in life. Through inspiring and personal stories of both success and failure, Parvati helps students learn to take courageous action, listen to their own inner guidance and understand that they only need one thing to go right in order to move forward to the next.
Learning Outcomes
As a result of attending this program, students will learn:
where their fear comes from, and practical strategies to overcome fear by tapping into their intuition and bridging a connection to their own inner compass,
what courage means and how to cultivate it, and
how to keep moving when faced with obstacles by narrowing their focus on positive outcomes.
Speakers With Similar Speaking Topics