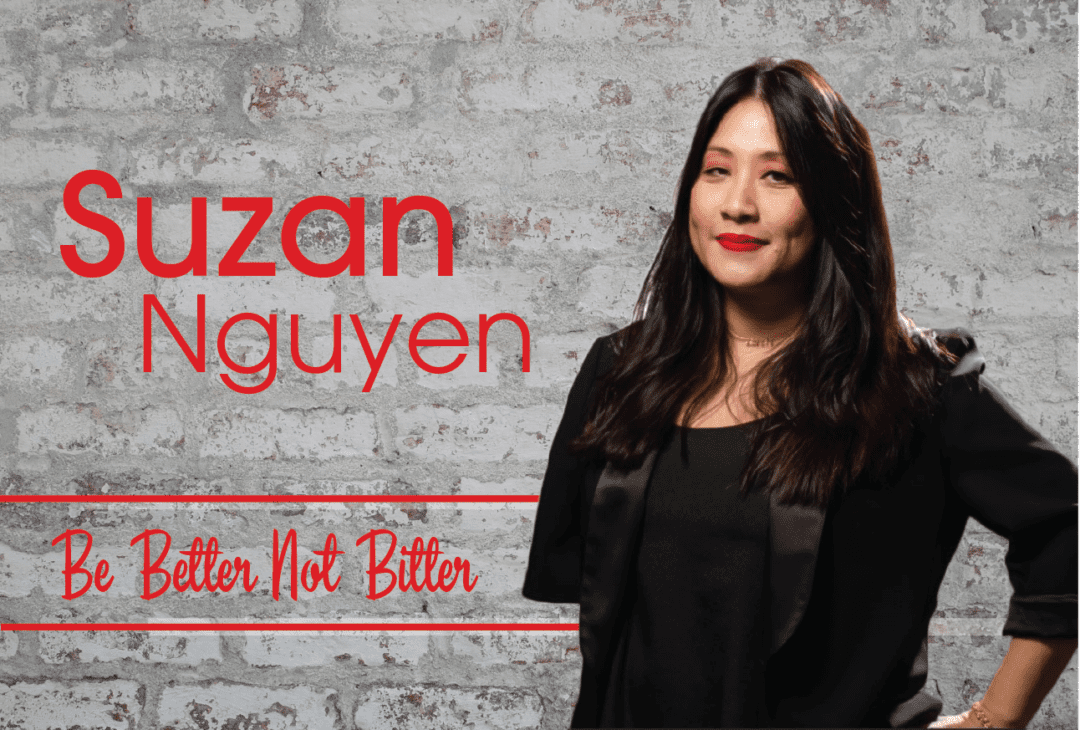 Suzan Nguyen
Be Better, Not Bitter. Suzan Nguyen passionately supports students in growing from bitter to better. She empowers them to identify & embrace their scars to tell their stories.
TOPICS
---
AAPI Focused
Authenticity
Leadership
Mental Health
Motivation & Inspiration
Residence Life
Personal Growth
Resilience
Self-Esteem
KEYNOTES
---
Suzan Nguyen, empowering students to embrace their scars.
Getting to know
Suzan Nguyen
Suzan Nguyen is a Happiness Coach, 2x TedX Speaker, Published Author of 'One Arm but Not Unarmed', Instructor and Entrepreneur.
Suzan experienced a life altering event after a traumatic car accident. In waking up from this near- death experience, she was introduced to her new self, with the loss of her dominant arm. While re-learning how to accomplish basic life tasks, she also experienced re-learning to live life. Emotionally, she ventured into a very dark place, one that left her hopeless, bitter and vulnerable.
Until one day- she decided to take her life experience and #bebetter instead of bitter.
With the help of those around her, Suzan coached herself out of that bitter place. She learned how to create joy from within and began helping others do the same. Her mission in life became clear- to help others turn adversities into advantages. To empower others to be better, not bitter.
Suzan has completed coaching classes at Institute of Excellence in Professional Coaching and continues to stay educated about her passion- Positive Psychology.
Suzan was crowned Mrs. Universal Empire Queen in London. A pageant that celebrates, diversity, and women empowerment.
Suzan has also launched Be Better Life Academy; a global online course helping others overcome adversity. The content has been curated from her personal experiences and will empower those to recognize, confront and embrace their pain when faced with misfortune. Suzan is confident the course will change lives and potentially save lives.
PROMOTIONAL MATERIALS
To help you promote your event with Suzan, CAMPUSPEAK has created promotional templates you can use. In this folder, you will find resources for social media, a promotional poster for printing, and press photos you can use for your event.
Link to Promotional Materials.
LOGISTICAL MATERIALS
SEE WHAT PEOPLE HAVE TO SAY About Suzan Nguyen!
Suzan's presentation was a wonderful experience that helped to engage our members and to expand their horizons.  Her presence helped to make our event a great success and her enthusiasm helped make our time together both productive and fun. She was an integral part, and we could not have done it without her.
— Tiffany Melkoski
Phi Theta Kappa Honor Society
Be Better, Not Bitter
Suzan was involved in a traumatic car accident at the age of 22, and as a result of that, her right arm was amputated. She was in the worst place she had ever known. She wasn't sure if she was going to recover and there were many moments where she wasn't sure if she would make it out alive. Suzan had to retrain her brain to be positive, to remain resilient and to persevere. It wasn't easy but giving up and giving in to the negativity was not an option.
In this keynote, Suzan shares her journey with students and teaches them to discover a path where they choose to Be Better, Not Bitter.
She shares her experience in overcoming major adversity and the trials and tribulations that led her to embrace and accept her new reality. Suzan connects with her audiences on a very personal and emotional level as she shares my journey through the darkness of being bitter, and into the light of being better.
Learning Outcomes
As a result of attending this program, students will learn:
How to be vulnerable and recognize, confront and embrace their pain,
How to become resilient and to persevere through life's obstacles, and
How to create joy from within which is crucial to living a happier life.
Speakers With Similar Speaking Topics