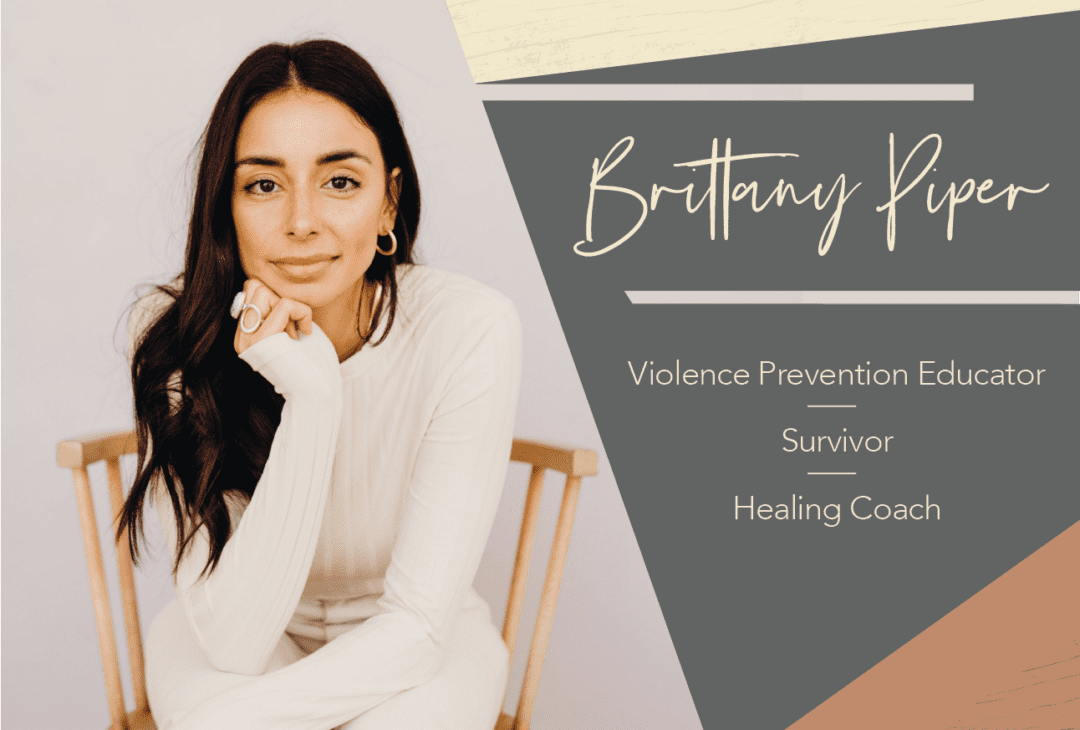 Brittany Piper
Brittany Piper overcame one of the most horrific events any of us could imagine: sexual assault. Now as a leading national expert on sexual violence and prevention, and a trauma trained practioner—Brittany uses her story of adversity, resilience and triumph to empower and inspire audiences to take brave action in their own lives and communities.
TOPICS
---
Addiction
Body Image
Bystander Intervention
First Year Experience
Health & Wellness
Personal Growth
Resilience
Sexual Violence Prevention
Social Entrepreneurship
Stress Management
Title IX
Women's Empowerment
KEYNOTES
---
Brittany Piper, teaching how to harness our hardship and grow.
Getting to know
Brittany Piper
Brittany Piper is an speaker, trauma trained practitioner — cultivating 400+ programs spanning 10 years and 3 continents. Her work has been recognized by The United States Army, the Laura Bush Institute of Women's Health, Cosmopolitan, Elite Daily + more. She is a rape survivor and leading national expert and advocate on sexual violence prevention and recovery—speaking to tens of thousands of audience members each year. She is also a forensic neurobiology expert— conducting dozens of trauma-informed trainings and programs with the United States Army and Sex Crimes Detectives annually. Lastly, she is trauma trained practitioner—empowering survivors to heal their past, so they can thrive in the present.
"If we can harness our hardships with the intent to grow through what we go through…we can do amazing things."
– Brittany Piper
SEE WHAT PEOPLE HAVE TO SAY About Brittany Piper!
Brittany is an excellent speaker who brought calm, empowering energy to a sensitive topic. Her presentation was crafted with tremendous intentionality to effectively communicate important concepts on empathy, the power of story, and the value of being change-makers in an evolving culture. Brittany brings her full self to her work and her authenticity shines, no matter the size of her audience.
— Sherenne DeLong
Coordinator of DEI Events, Northern Virginia Community College
Brittany is absolutely amazing. We had her last year for the first time and I have never sat through a program with 700+ freshmen who were attentive and actually impacted by the presentation. Our students did not stop talking about the presentation for some time. Our student leaders were in awe. Brittany has been amazing and our students really gravitate towards her. I cannot say enough good things about her. She is without a doubt the best speaker we have ever brought in. She is the type of person the world needs more of.
— Alyssa Caliguri
Assistant Director for First Year Student Success, Western New England University
Brittany is relevant, straightforward and real, and represents herself, her story and her ideas with grace and clarity. Brittany has a strong understanding of sexual violence and rape culture, and speaks from the perspective of a survivor, a peer, and an accomplished world traveler and artist.
— Sarah Diaz
Butler University
Brittany Piper is a dynamic and charismatic speaker who commands the room in an effortless way. Her story is poignant and inspiring to all those in attendance. Attendees leave the room better off having had the privilege of listening to her!
— Marcus Foster
Title IX Coordinator, SUNY Geneseo
We can not say enough good things about Brittany's talk. We are still talking about it days later. It was beyond perfect. We were so impressed with her ability to tie so much important information in to your talk. We are so glad to have heard about Brittany and would not hesitate to tell many others how amazing she is!
— Katie Kitschke
Executive Director, SAFFRON Centre
Brittany was incredible for us. A very brave woman who delivers her message very clearly while creating a safe and supportive environment for all. The perspective she brings paired with the facts, statistics, and her personal experience make for a very eye opening event. You definitely walk away feeling supported, challenged, empowered, and with new information that you didn't have before. Highly recommend Brittany Piper!
— Jen Muston
Director of Student Activities, York College of Pennsylvania
Thank you to Brittany. We have continue to bring her back as a part of our orientation program. She has a strong message, delivers it in the right way and is open to connecting with our students.
— Eva Robbins
Keuka College
Brittany has an incredible ability to share her experiences and connect with students. Several students commented that they benefited personally from her story, her courage, and her willingness to promote change.
— Laura Smitch
Sex Crimes Detective, Indianapolis Metropolitan Police Department
Rape Culture: A Survivor's Perspective
Brittany Piper was 20 years old when she was brutally raped by a man pretending to be a good samaritan. Now, nearly ten years later, she refuses to keep silent as she gently unravels this sensitive topic with audiences, allowing them to gain a deeper understanding of this prevalent issue. As a survivor and women's studies scholar (focusing on Gender-Based Violence, Prevention and Rape Culture), with extensive work in local and international organizations (including Rape Crisis Centers in conflict countries): Brittany is able to use her perspective as a survivor, as well as a trauma and prevention expert, to educate communities and organizations on the many perspectives of sexual violence prevention AND recovery.
Her personal and moving story, blended with a non-judgmental and healthy dialogue about rape, compelling research, and interactive activities, offers a meaningful picture of the realities of the toxic culture in which we live. Brittany reveals how we all participate in rape culture, even from a young age, and helps individuals to understand the role they play in either perpetuating or ending the cycle. Participants leave feeling empowered to not only combat sexual violence in their communities, but to be a pillar of strength for the survivors around them.
Learning Outcomes
As a result of attending this program, students will learn:
What consent looks like, especially when alcohol and other substances are involved.
How to address the community's involvement in rape culture through such concepts as: victim-blaming, rape myths, and more.
Ability to identify potentially dangerous situations.
Safe and effective ways to directly or indirectly intervene as an active bystander.
The physical, mental and emotional impact that sexual violence can have on an individual.
How to support peers who have experienced sexual assault.
The Heart of Resilience & Recovery
Brittany Piper intimately understands the road to recovery from the perspective of a trauma survivor, as well as a Somatic Healing Practitioner who's worked in rape crisis and trauma centers around the world. In both her personal life and in the communities she serves, she bares witness every day to the devastation that trauma can leave in its wake: shame, depression, addiction, anxiety, PTSD, suicidality, eating disorders, Secondary Trauma, and more. But even greater, she's also walked the profound path to resilience and recovery and guided thousands on the same journey.
Today, with over 70% of us experiencing trauma at some point in our lives, most of us could be up against these battles. This makes the mission of trauma informed education and healing crucial for everyone, survivors and allies alike.
In this interactive program, Brittany will inform, inspire, and walk students through the scientifically proven methods and practices designed to heal the effects that trauma leaves on the brain and body. From military bases to conflict countries, to workplaces and college campuses—Brittany's educational and hands-on program has transformed and empowered the lives of countless audiences. And now, she's ready to share her heart and knowledge with yours.
Learning Outcomes
As a result of attending this program, students will learn:
How to develop a personalized routine that will be beneficial in the recovery process following trauma,
Somatic practices that get the body and nervous system UNSTUCK from states of survival (fight, flight, freeze) and into regulation (rest & digest),
The science of trauma: how it impacts the brain, emotions, nervous system and body,
Exercises that confront feelings of depression, shame, fear, anxiety, and more,
Everyday healing practices that allow space for mindfulness, gratitude, self-affirmation, and body awareness,
How to handle triggering events or situations in a healthy way,
how to navigate relationships following an assault or secondary exposure to trauma,
How to build confidence and self-worth,
How to support survivors in their recoveries,
From Hardship to Leadership: Transforming Pain into Progress
Brittany's world was turned upside down with the sudden death of her brother. Heartbroken, she surrendered to alcohol dependency. Five years later, she was brutally raped and beaten by a stranger. Again, her pain consumed her, until she hit rock bottom. She had to make a choice: continue on the path of self-destruction or salvage the beauty from her brokenness. She chose the latter, picking herself up with resilience and a newfound appreciation for the purpose in her pain. It was then that she found that life's overarching mission, to forge connectedness and be of service to others, was far greater than any adversity standing in her way. That's what fuels her today as a renown social entrepreneur, international photojournalist for women's crisis centers, rape prevention speaker and wellness coach.
In this session, Brittany will illustrate that when we choose to salvage our suffering through strength and empathy, we can also become a beacon of hope and support for those still lost in the dark. Combining raw and relatable stories, actionable advice, and compelling research, this experience will empower audiences to take brave action in their own lives.
Learning Outcomes
As a result of attending this program, students will learn:
How to recognize and challenge the cultural stigmas and misconceptions surrounding mental health, addiction, eating disorders, and the countless other ways that trauma "lives out loud."
When acknowledging adversity: shame promotes opposition in our lives, whereas empathy promotes opportunity.
Our deepest pain can be the seed to our greatest purpose.
Pain is universal, we have a choice to seek joy and compassion over bitterness and self-pity.
The 3-step process to "purposing your pain."
After the Assault: Healing Through Self-Care for Survivors and Their Peers
Ending sexual assault on college campuses has never been more important. Messaging highlighting primary prevention makes up the majority of programming, and rightfully so. But outside of on-campus resources, how are survivors and their peers who support them being equipped to care for themselves from the inside out? Brittany Piper understands the severity of maintaining a self-care routine from the perspective of a survivor, as well as a supporter who has worked in rape crisis centers around the world. From battling with shame, depression, addiction, anxiety, PTSD, eating disorders, and/or Secondary Traumatic Stress, these are the challenges students face after being exposed to trauma. In this interactive program, Brittany will walk students through emotional, mental and body exercises designed to root out the toxins that sexual assault leaves in its wake. In addition, they will receive a self-care workbook, empowering them to support themselves and others in their healing.
Learning Outcomes
As a result of attending this program, students will learn:
How to develop a personalized self-care routine that will be beneficial in the recovery process following an assault or secondary exposure to trauma,
How to identify and root out blocks that are holding them back from healing,
Self-care exercises that confront feelings of depression, shame, fear, anxiety, and more,
Everyday healing routines that allow space for mindfulness, gratitude, self-affirmation, and body awareness,
How to handle triggering events or situations in a healthy way,
How to navigate relationships following an assault or secondary exposure to trauma,
How to build confidence and self-worth,
Breathing and yoga exercises that grant space for introspective communication, connection and self-love
Speakers With Similar Speaking Topics