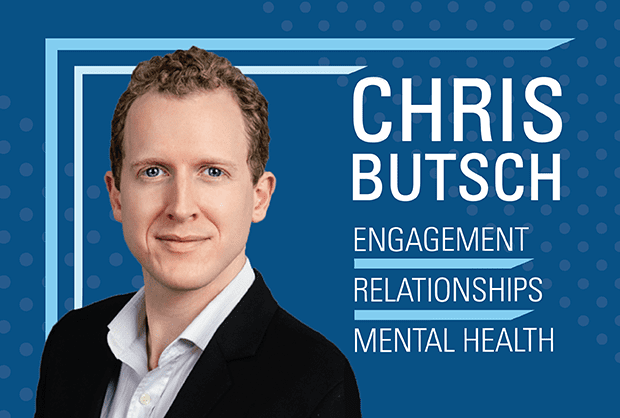 Chris Butsch
Chris Butsch studied happiness in 41 countries, interviewing hundreds of psychologists, CEOs, monks, millionaires, millennials, and of course, Gen Zs. Having discovered a link between money and mental health, Chris adopted a unique approach to helping college students that blends personal finance, happiness, and leadership into actionable and unforgettable learning experiences.
TOPICS
---
Financial Literacy
First Year Experience
Fraternity & Sorority Life
Organizational Development
Leadership
Orientation
Stress Management
Mental Health
KEYNOTES
---
Getting to know
Chris Butsch
To conquer depression, Chris Butsch quit his job and traveled the world, studying happiness and the human condition. Visiting over 41 countries and counting, Chris has interviewed hundreds of psychologists, swamis, monks, billionaires, and millennials. He's made snow angels with CEOs in Sweden, sang karaoke with Chinese business moguls, and studied mindfulness with Buddhist monks in rural Mississippi.
Chris is the author of The Millennial's Guide to Making Happiness and has been featured in Forbes, Huffington Post, and on TEDx. Chris's high-energy, no-nonsense, and BS-free approach to the delicate subject of "organizational happiness". Chris wants to help you improve your mental health, make meaningful connections, and accelerate your path to happiness.
PROMOTIONAL MATERIALS
To help you promote your event with Chris, CAMPUSPEAK has created promotional templates you can use. In this folder, you will find resources for social media, a promotional poster for printing, and press photos you can use for your event.
Link to Promotional Materials
LOGISTICAL MATERIALS
Below you will find logistical resources for the day of your event with Chris.
In-Person AV Needs (PDF)
Speaking Introduction (PDF)
SEE WHAT PEOPLE HAVE TO SAY About Chris Butsch!
Chris was outstanding. We received incredible feedback from the attendees, and many stated that this was the best conference speaker that they had ever seen. Chris is genuine and real, and he does not provide a "show". He was himself, and the students were able to connect with him. The tools and techniques that the students learned will help them in the future during this unusual time. Chris was so easy to work with. He even conducted research about Phi Theta Kappa and provided key references within his keynote that were perfect.
— Michelle Coach
New Englad Regional Coordinator, Asnuntuck Community College/New England Phi Theta Kappa
Chris identified the common problems that occur in student organizations and specific strategies for fixing those problems. I really like his "CAME to the meeting" acronym – I think that'll really help with our meetings!
— Paige Ling
South Dakota School of Mines & Technology
In today's society social media is sometimes looked at as a disease, but Chris showcased how we can be in control of it and maximize the good that can come out of being connected online.
— Paul McGroarty
Student, Montclair State
Chris gave me a different perspective about WHY I should be a virtual leader and HOW I can be more effective at virtual leadership. Thanks.
— John Puksta
Student Leader, Worcester Polytechnic Institute
I took away so many new tools and tactics! I have a much more positive outlook on leading virtually and not being so hard on myself about member engagement during these times.
— Allison Romano
Student Leader, Rhode Island College
The largest concern my organization has been talking about for a long time is engaging members, and I feel like Chris Butsch gave really solid tools to follow. The four things he taught us are so easy to remember, but also something we could easily practice in daily life. I feel like what I took away from that talk was something I can apply right now during this retreat, as well as as soon as I get back home.
— Shashwati Shradha
South Dakota School of Mines & Technology
Chris is able to talk about a topic that is hard for most. Because he opened up to our Greek community, our members were able to feel a connection with him and open up as well. As a result, we have heard nothing but positive feedback about his program.
— Lauren Spina
Panhellenic Council, Franklin College
Chris Butsch's Virtual Leadership program gave wonderful insight on the realities of remote leadership and how to keep members engaged. There were a ton of ideas that will prove to be useful in the future!
— Christian Walters
Student Leader, Robert Morris University
The Student's Guide to Financial Mindfulness!
Is financial stress holding you back from happiness?
You're not alone. In fact, 7 out of 10 students feel stressed about their finances while in school, affecting their grades, relationships, and overall student life experience.
Luckily, Chris is here to help. As a Motley Fool "Best Voice in Finance," Chris knows a thing or two (or ten) about how students can build healthy money habits earlier – spending less, saving more, and investing in all the right places to prosper (and pay off student loans faster).
In the keynote, Chris Butsch leaves no stone unturned from crypto to index funds, student loans to savings accounts. Students will be entertained by Chris's eccentric passion for Gen Z's financial wellness – but also learn life-changing tips for slashing financial stress and living better on campus and beyond.
Learning Outcomes
As a result of attending this program, students will learn:
The dangers of investing in crypto
How to avoid common "debt traps" for students
How to address financial anxiety without making an extra dime
The best free resources on campus
How to start investing with little money
Understanding their student loans – and when to refinance
Four things every student should spend money on (and three they shouldn't)
A healthier mindset for money that will serve them for life
Magnetic Leadership: Transforming Apathy Into Engagement
As a student leader, are you growing concerned over members "checking out"? Are you tired of promoting events and opportunities only to have the same handful of people show up? Are you worried that your least engaged members are going to cause others to disengage, too? When even just a few of your members have checked out, it can affect the overall success and happiness of your organization. However, chasing them down can lead to feelings of frustration and burnout. Luckily, there's a better solution.
In a fresh take blending leadership with positive psychology, Chris helps student leaders understand the root causes of member apathy, giving them clear strategies for increasing "organizational magnetism": boosting involvement while naturally attracting new members.
Student leaders will laugh, learn, and take away The Magnetic Leadership Toolkit for slashing apathy, renewing commitment, and helping members get the most out of their membership experience.
Learning Outcomes
As a result of attending this program, students will learn:
The true definition of "member engagement" and why it matters
3 simple leadership engagement strategies for addressing apathy and increasing involvement
How to identify your unique value proposition and "Tie Your Why" to member goals and motivations
Common reasons why members "check out" in their third and fourth years, and how to address them
How to facilitate a sense of connection and belonging by building meaningful relationships
How to help your members get the most out of their membership experience
Making Happiness: Maximizing Your First Year Experience
You've made it! You're officially a college student now. How should you spend all of your newfound time and freedom to have the best experience possible?
The movies told us to party, drink, and go wild. But globetrotting happiness expert Chris Butsch has a better solution. Using humor, science, and interactive activities, Chris walks back misconceptions about college and equips students with tools they'll use all four years to build a happy, engaged, and satisfying college experience.
First-year students will learn to construct a "Happiness Action Plan" for staying mentally and physically healthy, avoiding loneliness, anxiety, and depression, building meaningful relationships, connecting with on-campus organizations and resources, and overall "sticking the landing" their freshman year.
Learning Outcomes
As a result of attending this program, students will learn:
The 3 most common pitfalls leading to first-year anxiety, loneliness, and depression, and how to avoid them,
How to take care of your mind and body using MESH (from Chris's TEDx Talk),
How to find true joy and pleasure without relying on drugs and alcohol,
How to "stick the landing" freshman year and establish a sense of connection and belonging by engaging with student organizations, and
Tools to communicate efficiently with academic advisors, professors, and the financial aid office (woah), to build a happy college career.
Managing Mental Health for Student Leaders
"Wow, my role was way easier than I expected!"
– No student leader ever
Make no mistake; student leadership is stressful. Sure, it builds skills, and experience and provides a valuable service to the club – but it's also challenging, unpredictable, and can often feel pretty thankless.
As a result, student leadership roles can be surprisingly draining to your mental health. Chris knows the feeling. As the student leader of three campus organizations at one point, Chris dealt with daily stress, anxiety, depression, and even loneliness during his tenure. Leadership roles which were supposed to be a growth opportunity were negatively impacting his grades, relationships, and overall college experience.
But it doesn't have to be that way!
That's why the author of The Millennial's Guide to Making Happiness is heading back to campus to teach student leaders how to overcome feelings of stress and burnout stemming from their leadership roles. In addition to becoming more effective leaders and mental health role models, students will learn how to positively reframe their leadership challenges, set boundaries, and take care of #1 while #1 takes care of everyone else.
Learning Outcomes
As a result of attending this program, students will learn:
How to manage their mental health while in a stressful leadership role
How to set boundaries between their leadership role and their student life
How to address feelings of leadership burnout
How to mentally reframe your leadership role, so it feels rewarding and less like a chore
A simple way to ensure your next leadership role will be more fulfilling
Speakers With Similar Speaking Topics