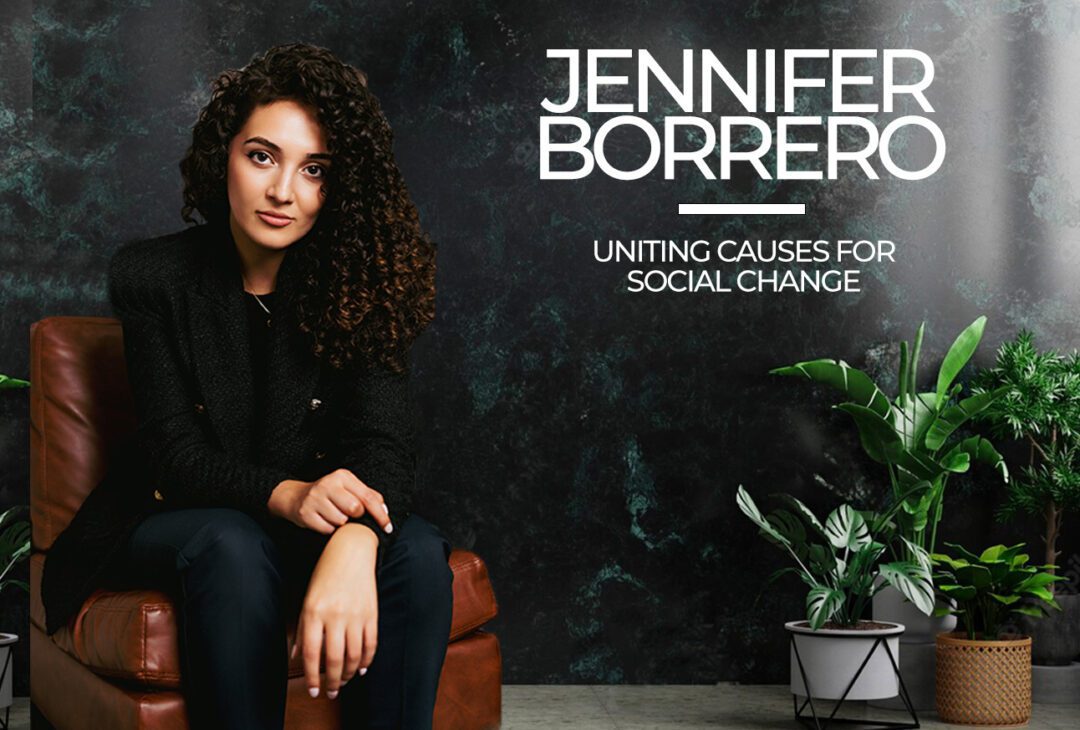 Jennifer Borrero
Jennifer Borrero is an award-winning, first-generation, Latina entrepreneur. Her social impact projects to address international human rights issues have been featured on multiple TED stages. Through her storytelling, Jennifer inspires students to realize they are capable and qualified to create change even if they are still figuring out their own journey.
TOPICS
---
Leadership
Diversity, Equity, & Inclusion
Orientation
First Generation College Students
Civic Engagement
Social Justice
Women's Leadership
First Generation American
Hispanic Heritage
Latinx Focused
KEYNOTES
---
Jennifer Borrero inspires students to realize they are capable and qualified to create change even if they are still figuring out their own journey.
Getting to know
Jennifer Borrero
Jennifer Borrero is the daughter of Colombian-Mexican immigrants and is a social impact advocate. As a first-generation American, Jennifer teaches others to embrace our cultural heritage while growing a purpose-driven career. Jennifer's North Star has always been her belief that all people deserve to feel cared for, seen, and heard. In a time where individualism is praised, Jennifer emphasizes the importance of creating connections and community across cultures in an authentic way.
Her work as a United Nations Ambassador has allowed her to lead projects around the world; from opening a public health clinic in Nicaragua to developing affordable housing communities in the US. She has run programs in the private and public sectors that focus on creating social change. She tells stories of her experience working on international human rights issues and lessons learned along the way.
Jennifer has been recognized as an emerging Hispanic Executive receiving the "30 Under 30" award for her work as the founder of Youth Housing Coalition, an organization that aims to empower young people to solve some of the country's most pressing problems. Her work has been featured on multiple TEDx stages. She is currently a Global Goals Ambassador for the United Nations Association.
Jennifer holds a Masters degree in Healthcare Administration from Georgia State University as well as a B.S. in Human Physiology from the University of Oregon.
Jennifer's ultimate goal is to create innovative solutions to global problems while empowering students to show up as leaders in their communities.
PROMOTIONAL MATERIALS
To help you promote your event with Jennifer, CAMPUSPEAK has created promotional templates you can use. In this folder, you will find resources for social media, a promotional poster for printing, and press photos you can use for your event.
Link to Promotional Materials.
LOGISTICAL MATERIALS
Below you will find logistical resources for the day of your event with Jennifer.
In-Person Event AV needs (PDF)
Speaking Introduction (PDF)
Jennifer was fantastic and served as a great inspiration to our members who may believe they have to wait to bring forth the changes they want to see in the world. Our members connected to her story and could see themselves in her shoes.
— Mary Linder
Regional Coordinator, Texas Phi Theta Kappa
KEYNOTES
Jennifer Borrero's Keynotes can be presented in English & Spanish
The Pressure of a Dream

Who am I? Why am I here? These questions are what both haunted and inspired Jennifer for years to seek deeper meaning. The only person in her family born in the US, she always felt the pressure to succeed in America, while also living up to the expectation of being a woman in a traditional Mexican family.
In this keynote program, Jennifer Borrero shares her personal journey of navigating the pressure to be perfect while striving to make her Hispanic family proud. She recalls stories of struggling to make ends meet, while sending money back to her family, insights of feeling overwhelmed and alone in college and how she turned that pressure and guilt into a career filled with purpose. Through her college journey Jennifer harnesses her leadership style in male dominated spaces while staying true to her roots.
This program is specifically designed to empower college students seeking to strike a balance between their academic pursuits and cultural expectations, students who may feel that they are being pulled in opposite directions and are unsure of who they are at their core.
A TRIO college graduate and now a UN Ambassador, Jennifer plants a seed of courage in each student. Students will leave with the tools to turn pressure into power, and understand how to use the unique challenges faced by first-generation college students to develop practices that will cultivate self-compassion.
Learning Outcomes
As a result of attending the program, students will learn:
How to use societal and cultural expectations of perfection to build resilience and self-compassion
How to maintain a strong connection to one's roots and heritage, and strategies for integrating cultural values and traditions into the college experience
How to find your leadership style as a woman identifying person
How to create your own path by setting realistic goals and redefining success in their own terms
How to seek mentorship and guidance from peers, professors and campus resources
Leadership, in your Community and in the World

Two out of three college students want to change the world. Are we giving them the tools to do that? Jennifer Borrero has been creating her I.D.E.A.L. impact in the world, and in this keynote she prepares students to take opportunities by storm, get the most out of their college experience and become leaders on and off campus.
Throughout the program, Jennifer Borrero equips students with a practical roadmap for making an I.D.E.A.L. impact in their own lives and communities. Whether it's starting a social initiative, advocating for causes they believe in, or becoming change agents in their chosen fields, this keynote program empowers college students to embrace their passions and become influential leaders. Students will leave feeling inspired, motivated, and ready to make a lasting positive impact on the world around them.
Learning Outcomes
As a result of attending the program, students will learn:
How to gain clarity on their unique talents and discover what truly drives them through connection and meaning
How to envision a future that aligns with their aspirations and how to embrace their own limitless potential
How to broaden their horizons and fuel transformations past their fears, failures and challenges
How to take intentional steps towards their goals and practical strategies for setting achievable milestones
Actionable leadership tools, how to empower others, and create a ripple effect of impact in their communities
Igniting Change

It's time for a new generation to rise and reshape the future. In this keynote program, Jennifer highlights her social justice work and explores how students can actively engage in creating a more equitable and inclusive society.
As a UN Ambassador and founder of a nonprofit, Jennifer recalls her journey of changing careers from a Wall Street techie to focus on social justice issues. Jennifer shares how she created opportunities for herself in rooms where she was deemed too young to have a powerful voice. From meeting with Senators on Capitol Hill to working with students in the Middle East, Jennifer provides the framework she used to have her voice be heard around the world.
Through thought-provoking stories and compelling insights, Jennifer will demonstrate the immense potential of Gen Z to drive meaningful change and how to overcome personal barriers. From grassroots activism to digital advocacy, students will gain valuable tools and resources to effectively amplify their voices and make a tangible impact.
Students will leave this program with a newfound sense of purpose and a clear roadmap for action. They will be equipped with the knowledge and inspiration to engage in social justice work and be catalysts to ultimately maximize their potential.
Learning Outcomes
As a result of attending the program, students will learn:
Recognizing the potential for a fulfilling career that creates positive change in the world
Effective ways to channel passion and translate it into impactful actions
The critical role Gen Z can play in advocating for and implementing social justice reforms
The power of connection and community in finding purpose and meaning in life
Speakers With Similar Speaking Topics