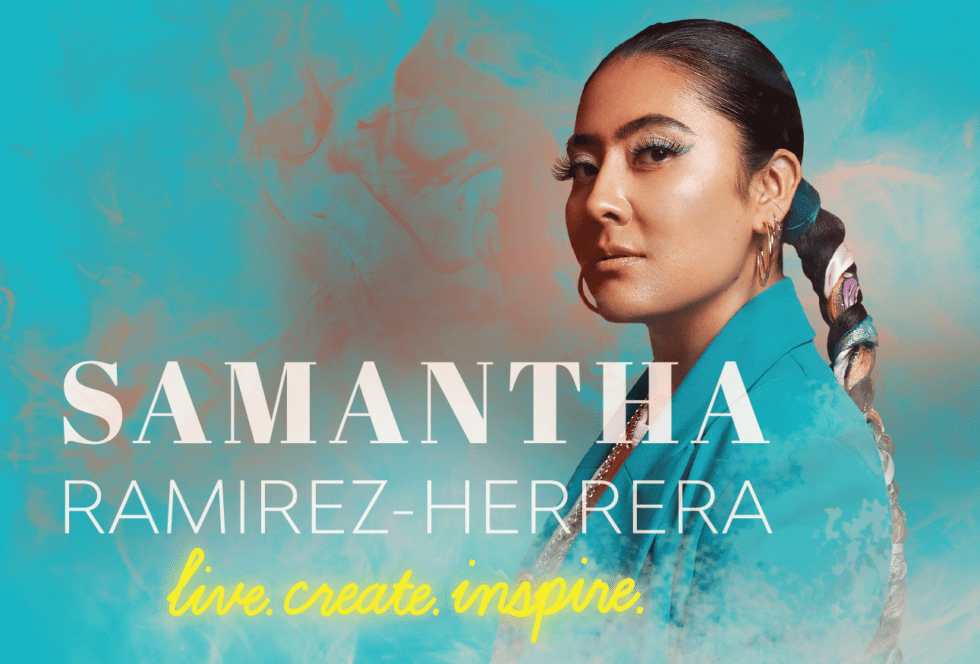 Samantha Ramirez-Herrera
Samantha Ramirez-Herrera is more than a DREAMer she is a DOer. Her family journeyed to America at the age of 7 in search and pursuit of the American Dream. Although growing up undocumented felt like a nightmare, she refused to be stopped from fulfilling her dreams and inspiring others to do the same.
TOPICS
---
Civic Engagement
Diversity
Entrepreneurship
First Generation College Students
Latinx Focused
Hispanic Heritage
Leadership
Personal Growth
Philanthropy
Service Learning
Social Justice
KEYNOTES
---
Samantha Ramirez-Herrera inspires those to fulfill their dreams.
Getting to know
Samantha Ramirez-Herrera
Samantha "Sam" Ramirez-Herrera is an entrepreneur, filmmaker, creative director, writer, mother, feminist, and civil rights activist. While she wears many hats, at her core, Sam is a storyteller.
Storytelling is the heartbeat of her company, OffThaRecord.com (OTR), a creative content agency and digital magazine headquartered in Atlanta, Georgia. At OTR, Sam has built a network of creative multicultural millennials who use their talents and technology to tell raw, uncensored and authentic stories to uplift marginalized communities and promote purpose-driven brands, nonprofits and change-makers.
Sam's unorthodox path to becoming a digital media maverick is rooted in her own story of drive and determination. She was 7 years old when her parents decided to move the family from Mexico City to the United States, seeking a better life. As an undocumented immigrant, she grew up in the shadows, working hard to get ahead while at the same time fearing the possibility of discovery and deportation. After graduating high school, she waited tables and worked other jobs to make ends meet before becoming a DREAMer, thanks to the Deferred Action for Childhood Arrivals (DACA) program.
Wanting to create something that was uniquely her own, Sam burst onto the digital scene in 2012, developing her own YouTube channel and show. She chronicled the journeys of independent musicians and artists following their own paths and doing what they loved. The show's tagline – "Live. Create. Inspire." – remains Sam's mantra to this day.
The channel gained an impressive online following among millennials of color. Based on its success, Sam officially launched OTR in 2015, working out of a small office at advertising agency in downtown Atlanta. That same year, she started the Kick Ass Girl Pow Wow (KAGPW), a digital platform that celebrates girls and women of diverse backgrounds, cultures, ages and career paths, "who are living out loud with purpose and passion." Sam hosts monthly Kick Ass Girl Pow Wow dinners where women can meet for food, conversation and support.
Through her work at OTR, Sam addresses topics she is passionate about, including feminism, economic justice, immigration, reproductive justice, LGBTQ rights, and mental health in communities of color. She is proud that, in its relatively short time, OTR has grown enough to employ staff and pay creative professionals in its network to produce original work for its clients, which are among the nation's most influential brands and organizations. They include Johns Hopkins Medicine; civil rights activist Arndrea King; Ms. Foundation for Women; AFROPUNK; and I Live For, a not-for-profit committed to ending the cultural stigma of depression, anxiety and other mental disorders in teenagers and young adults of color one story at a time.
As an extension of work at OTR, Sam, shares her expertise in communicating with Latin and Hispanic audiences and multicultural millennials. She has become a highly sought-after speaker on college campuses and at conferences addressing the issues of immigration, gender equality, sexual orientation and identity, culture and ethnicity, and diversity and inclusion. As a proud, Mexican-born DREAMer, she is also a vocal advocate of U.S. immigration reform.
Sam has appeared on MSNBC's Hardball with Chris Matthews as well as in Forbes, Mundo Hispanico, AFROPUNK, and The Collegian. She has spoken to audiences at Emory University's Goizueta Business School, Georgia Hispanic Chamber of Commerce, Atlanta Association of Independent Schools, Los Angeles City College, and HATCH Experience North America. She recently was named a 2018 scholar at The Aspen Institute Ideas Festival.
PROMOTIONAL MATERIALS
To help you promote your event with Samantha, CAMPUSPEAK has created promotional templates you can use. In this folder, you will find resources for social media, a promotional poster for printing, and press photos you can use for your event.
Link to Promotional Materials
LOGISTICAL MATERIALS
This error message is only visible to WordPress admins
There has been a problem with your Instagram Feed.
Error: There is no connected account for the user 5472041679482805.
SEE WHAT PEOPLE HAVE TO SAY About Samantha Ramirez-Herrera!
Sam's ability to engulf anyone in her storytelling is remarkable; she had the majority of our audience in tears throughout the beginning of her talk. Sam is honest, relatable, and inspiring, and she reminds each of us that we are capable and responsible for showing up and making our individual, and collective, dreams a reality.
— Nury Castro
Director of Diversity Education & Training, Agnes Scott College
Samantha's presentation, life story, and professional journey is incredibly compelling. Her generous explanation of the way she has overcome challenges and turned them into opportunities along with demystifying myths in regards to US immigration provided our students with inspiration and the tools to dream bigger and advocate for positive change.
— George Camacho, OFM
Director - Damietta Cross-Cultural Center, Siena College
Samantha is a representation of what some immigrant Americans endure on the path to the American dream promised each of us. Her journey resonates with all of us because it is real and relatable. Irrespective of our socioeconomic status or culture, the color of our skin or place of birth, her "story" gives us hope that if we choose to be, we can evoke hope in another person thereby changing our collective trajectory, one dream one person at a time.
— Dr. Andrea Grannum-Mosley
Interim Dean of Workforce, Community Engagement, and Technical Education, Lehigh Carbon Community College
Samantha Ramirez-Herrera was absolutely INCREDIBLE. She was very wonderful and personable and accessible to the students. She told her story so honestly and beautifully. The students, myself included, felt absolutely drawn to her by her charm, magnetism, strength, and courage. She contacted the organizers ahead of the event personally to get a feel for the what we wanted out of the event and what she should expect and that was a personal touch we did not expect. And afterward, she offered ways to remain in contact with her. Overall, we could not be happier with her appearance on this campus.
— Ashley Hernandez Estrada
College of William and Mary
Sam is an authentic individual who provided our community members with a wonderful program. Her journey is fascinating and serves as a light to others. She is amazing and we anticipate her returning in the future!
— Lai-Monte Hunter
Associate Dean of Student Life/Director of Diversity, Lyon College
Sam was one of the most phenomenal speakers I have booked in my career. She was engaging with us and her language was inclusive in the sense that it was not gender specific but normalized it and had great flow. You could feel the empathy that Sam was bringing to her talk. She was personable and honest, a humanistic approach that allowed to view her as an equal and a role model all at the same time.
— Katiuzca Loaiza-Espinoza
Director of Multicultural Affairs and Residential Education, The MOSAIC Center, Cazenovia College
Our institution loved SAM! Her story was so amazing and motivational! Can't wait to partner again.
— Natividad Martinez
President of Gamma Phi Omega at NEIU, Northeastern Illinois University
Sam's message was so powerful! She was able to speak with such vulnerability to our members which resonated strongly, particularly with GenZ. Her message is inspiring and reminded us all that hard work comes with passion and perseverance.
— Jessica Sheridan
COO, DPhiE
KEYNOTES
Samantha Ramirez-Herrera's Keynotes can be presented in English & Spanish
Live. Create. Inspire
I am labeled as a DREAMer, but I know that I am more than that. I am a DOer.
For twenty years Sam's ethos has been "Live. Create. Inspire." manifested through life experiences as an undocumented immigrant searching for her identity, survival, and purpose ranging from dishwasher to DJ,  blogger to failed YouTuber, waitress to a now award-winning filmmaker, entrepreneur, and advocate.
10 years ago Sam left home with a suitcase and her then 4-year-old son in search of her purpose and calling in life. Hungry to tap into her potential and determined to live her wildest dreams regardless of her immigration status, background, lack of education, and resources she tapped into the most powerful tools at her disposal; courage, curiosity, and creativity.
In this program, Sam takes students on a visual journey through the last decade of her creative career, the highs and lows, the failures and successes, and everything in between. The goal of "Live. Create. Inspire." is to ignite students to build on every life experience until they discover their passions and purpose in this world. Sam believes that we all have the ability to contribute toward a new and reimagined world that is inclusive, equitable, and vibrant. She believes that we all have the power to demolish barriers and push past the impossible.
Learning Outcomes
As a result of attending this program, students will :
Be empowered to pursue their wildest dreams without apology
Learn how to use and view every single life experience as an opportunity to discover their passions and purpose in life
Be inspired to see challenges as opportunities to create and innovate
Be empowered to be trailblazers and game-changers in their schools and communities
Learn that being a jack of all trades is not always a bad thing
Learn about the opportunities to build careers in creative industries
Borderless Dreams "Sueños Sin Limites"
Borderless Dreams is a program focused on inspiring courage and catalyzing positive and bold action towards students' biggest dreams.  Creative entrepreneur, activist and immigrant DREAMer Samantha Ramirez-Herrera shares her compelling journey growing up undocumented and forging forward despite of the challenges she faced from language barriers, economic obstacles, cultural differences, immigration policies, and lack of resources for higher education.  By choosing to come out of the shadows, allowing ourselves to dream big and face fears with courage we have the power to find growth
Through sharing my personal immigrant story and the challenges I've overcome to become an entrepreneur my hope is to inspire students to learn the power of listening to their intuition and not being afraid of the unknown. I want to relay the message that nothing is impossible if we believe and choose to take the journey of self discovery and have the courage to tap into our full potential.
Learning Outcomes
As a result of attending this program, students will learn:
how to expanded Cultural Knowledge
how to recognize the diverse experience of immigrants and children from other countries
how to build empathy
how to let go of negative thoughts that can hold us back
how to be authentic and lead without fear and finding their purpose
The Art Of Storytelling
There is great power in telling an unforgettable story. This keynote focuses on inspiring and teaching you to leverage the power of engaging narrative and effective communication so you can get your message and ideas across in an authentic and moving way. This keynote will help catalyze audiences to embrace and understand your big ideas and form lasting connections. In this keynote, Sam will share the framework she has been using over the last 10+ years to help people, brands, and businesses globally tap into the power of storytelling!
Learning Outcomes
As a result of attending this program, students will learn:
How to craft persuasive communication using story principles
How to be confident in owning your own story and sharing it with others
Help leaders identify storytelling opportunities
How to implement appropriate narrative structure
Speakers With Similar Speaking Topics