Tom Healy
Tom Healy helps people achieve their Peak Potential so they can change the world. He believes we each have incredible potential inside of us… but it's worthless unless we discover it and use it.
TOPICS
---
Fraternity & Sorority Life
Personal Growth
Career Planning
Leadership
Character Development Recruitment
Financial Literacy
KEYNOTES
---
Interactive Workshop
---
Tom Healy discovering our peak potential
Getting to know
Tom Healy
Tom Healy is passionate about helping leaders & entrepreneurial organizations reach their Peak Potential.
As a teenager, Tom started his first business and his entrepreneurial spirit has only grown. Over his professional career, Tom has founded multiple successful companies, published three books, developed online education used on over 100 college campuses, delivered over 1,000 presentations and helped hundreds of organizations get better, faster. Anyone who has worked with Tom will tell you that he relentlessly pushed them through actionable ideas, not a warm and fuzzy pep talk. Tom has been fortunate to help a wide range of organizations, including startups, rapidly scaling companies, national non-profits, the United States Navy, the Harvard Medical School and Fortune 500 companies.
Tom is an active member of his community and has spent his entire professional life in Scottsdale, AZ. His community involvement includes serving on multiple boards and volunteering his time for non-profits. In his free time, Tom enjoys traveling with his family and is an avid golfer.
THROUGH CAMPUSPEAK YOU CAN PURCHASE TOM HEALY'S BOOK AT A BULK RATE DISCOUNT.
Limitless Leadership is a book for young leaders to reach their extraordinary potential. We all have unbelievable potential inside of us, however too many people go through life without coming close to reaching it. In this book, you'll find personal stories, stories from well-known leaders, and the integration of proven leadership theories – the goal is for you to have both a strong understanding of leadership, as well as specific ways to do it at a high level. This book isn't just about understanding leadership; it is about doing leadership.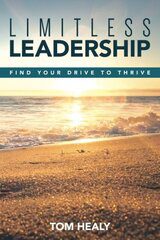 PROMOTIONAL MATERIALS
To help you promote your event with Tom, CAMPUSPEAK has created promotional templates you can use. In this folder, you will find resources for social media, a promotional poster for printing, and press photos you can use for your event.
Link to Promotional Materials
LOGISTICAL MATERIALS
SEE WHAT PEOPLE HAVE TO SAY About Tom Healy!
Tom Healy is an amazing speaker. He was a constant professional and really set the bar for future Greek Week speakers. The crowd really liked what Tom had to say and you could tell they were excited to be there. He took the time to really find out what they were interested in and how they could benefit from his experience.
— Vince Bowhay
Greek Life Advisor, Fort Hayes State University
Tom Healy's extensive knowledge and expertise in recruitment shines through in his presentations. He has seen it all and knows how to tailor his programs to meet the needs of his audience. Theta Chi Fraternity is excited to continue to partner with Tom!
— JD Ford
Senior Director for Recruitment & Expansion, Theta Chi Fraternity
Our audience was very attentive because of Tom's approach to recruitment, which involved relatable scenarios. Tom has a good sense of humor and he got his point across very well by answering all questions without hesitation and providing a lot of detail. He is very experienced in his field.
— Dominic Policicchio
University of West Florida
Tom brings a level of energy, knowledge and skill to his presentation that engages the audience from the moment he takes the stage. His rapport with the students and alumni at our national convention was genuine, enthusiastic and built credibility instantly. Tom's knowledge of his content is one of the best I've seen in many years.
— Brian Tenclinger
University of Michigan
Peak Potential
Tom Healy believes that we each have incredible potential inside of us… but it is worthless unless we discover it and use it. In this program, Tom helps students to process their personal origin story, identify the biggest themes in their lives, and learn how to channel this in order to reach their Peak Potential as a leader.
Learning Outcomes
As a result of attending this program, students will learn:
How to identify the biggest themes in their lives that guide them as a leader
The specific activities that give them energy so they can identify their unique greatness
The power of resiliency and value of a strong work ethic
Specific ways to channel their passion to make the people and community around them better as a leader
The importance of the people in their lives and how these people shape them
How to craft a personal mission statement to reach their Peak Potential
Authentic Recruitment: Be Real. Be Great
If you enjoy a scripted presentation on how to stalk freshmen you don't know, act fake when interacting with them and creating an inauthentic excitement about recruitment then you probably won't enjoy this program. If you are looking for ways to network with people you already know, act like your authentic self and build a genuine interest in recruitment by empowering others to get involved then you are in luck – Authentic Recruitment walks you through a simple process that will make recruitment enjoyable and lead to high-quality new members joining your chapter or community. You will walk out of this program with the tools, ideas and skills to thrive at recruitment in the easiest and most effective way possible!
Learning Outcomes
As a result of attending this program, students will learn:
How the quality of members you recruit impacts the quality of a chapter/community
How to be your authentic self and make a genuine connection with potential members
The biggest reasons why chapters/communities struggle with recruitment and how to overcome them
How to execute a winning system for recruiting top-notch members
Take Control of Your Finances (Don't Let Them Control You)
Building a strong financial foundation at a young age can make a tremendous difference in someones life. In this program, Tom Healy walks through the best practices for staying in complete control of your finances. He teaches students the basic habits that will have a massive impact as their life progresses. This program is delivered in a straight-forward, entertaining and action-oriented style that will make a measurable difference for the audience.
Learning Outcomes
As a result of attending this program, students will learn:
The value of being in control of your financial future, rather than feeling hopeless and out of control
The common financial challenges that people face
The various financial paths people can take and different perspectives on what financial success looks like
The importance of tracking all financial activities and the easiest free resources to utilize
How self-control and discipline play an important role in financial success
What various vehicles are available to save and invest money
The consistent actions one must take to be in control and financially organized at all times
Limitless Leadership Interactive Workshop
Maximize Your Impact by Helping Students Maximize Their Leadership Potential
All participants of the Limitless Leadership Interactive Workshop take a personality-based behavioral assessment, participants will have the ability to understand how they are uniquely hard-wired and how key personality traits intrinsically relate to leadership, personal, and professional development.
As a result of this program, students will learn:
How to analyze and process their behavioral assessment results,
How to understand the communication challenges that exist between different behavioral patterns,
How adversity and conflict can affect their impact as a leader,
Best practices of successful leaders and how they can apply them to their lives and their membership organizations,
How to build leadership skills to create meaningful change in their organizations, and
How to develop a customized Personal Leadership Plan to guide them moving forward
Speakers With Similar Speaking Topics