Fall 2021: Lessons From My Family Vacation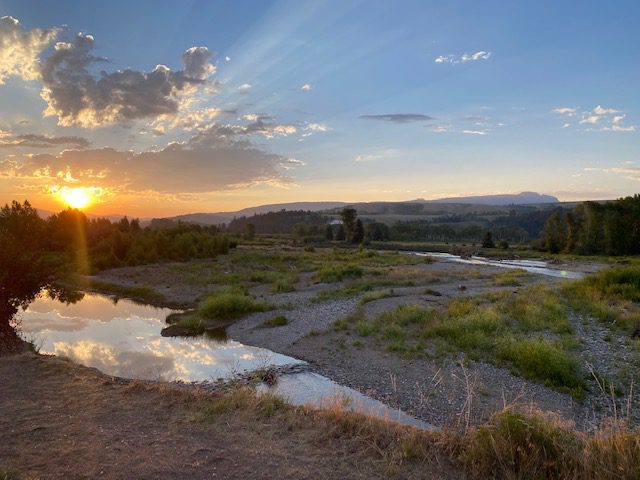 This summer I had the opportunity to go on a family vacation to Jackson, WY. The combination of people, views, amazing national parks, and wildlife (read: no cell phone service for four days) created an environment where you couldn't help but just be present and take in the moments. What I appreciated more than the beauty of the Grand Tetons was the shared experiences and memories with my family. Particularly, the conversations and time spent with my niece and nephew.
They have always kept me on my toes and tried to keep me current on trends, but this trip brought to light some critical knowledge regarding Gen Z views. I have some work to do to remove 'adulting' from my vocabulary, BuzzFeed quizzes are no longer a way to kill time, and the laughing/crying emoji will not be used when I'm texting with college students. They helped me realize I'd missed the memo and I needed to get it together. The jury is still out on the middle part. On a positive note, I no longer feel alone in my feelings about avocado toast and wouldn't have ridden the cowboy coaster if it wasn't for my niece seeing it on Tik Tok.
As we talked and caught up on all of the happenings since the last time I saw them in person, I couldn't help but notice so many of their Gen Z characteristics. It gave me hope. I also couldn't help but think about some of my observations in the context of students I get to work with and support. I know. I was on vacation. I guess I can turn off my phone and email but the part of me that cares about other's safety is just always at top of my mind.
As many students return to campus for an in-person experience, there has been much dialog and concern being raised around the social culture. Rightfully so. Despite a mostly virtual experience, consumption of alcohol increased (https://www.dyadstrategies.com/news/whitepaper). There are concerns about a "making up for lost time" mindset which may result in increased high-risk drinking and with students who have had little to no experience with consuming alcohol. I share these concerns and wonder if the impacts of COVID-19 combined with Gen Z characteristics. I also wonder if these traits will contribute to an increase in hazing prevention or an increase in unhealthy relationships and group dynamics.
Diversity is the norm for this generation. Could there be a decrease in individuals being singled out?
The current group of college students are socially aware and have high moral standards. Gen Z also has a strong desire for belonging and don't want to let people down. Will we need to be prepared for an increase of reported incidents because of their moral standards or will the pull to not let people down prevent students from challenging unhealthy traditions?
This is also a generation who is loyal to trusted authentic brands. Will they trust and join organizations who may have a history of hazing incidents? Will we see a decrease in membership retention when what a person is told when joining is not the experience they are having as a member?
I realize some of these questions may be oversimplifying a complex issue, and my point is that we need to be aware the landscape has shifted. believe the impacts of COVID-19 on the student experience over the last 18 months will amplify that shift. So, how do we respond? How can we encourage and build on the traits that may be able to idealistically prevent hazing? How can we intentionally get ahead of mindsets that may create an environment for potential hazing? I've been trying to incorporate these questions into my professional work.
Call to action – Encouraging a strong stance on the harms created by hazing. Highlighting their opportunity to influence a significant change. How can conversations about hazing prevention call on their moral convictions, determination, and deep care for others to be a stronger force than not wanting to let other people down?
Positions of power – What opportunities exist to talk with people in a position of power (big sisters/mentors, leaders, seniors, advisors)? Let's call on those who will influence and support newer members of organizations or teams about building positively on this generation's strong desire to belong including a discussion about the negative consequences if that is used for less than honorable actions. The desire to belong is a powerful force and often overcomes sound judgment and ethical choices when it comes to hazing. This has been a long-standing barrier to stopping hazing and does not only apply to Gen Z. I worry that this trait combined with the recent absence of in-person experiences has the potential to create extremely unhealthy group environments. Has it been addressed head-on and have specific expectations been outlined that clarified the desired behaviors? Teach and educate on what is actions and attitudes should be present not just those that are prohibited.
Resources – Capitalize on their ability to teach themselves and know they are seeking to learn and find information on their own. Are they in small bits of information and are we directing people to places they are already using for education like YouTube and TikTok?
Retreats and visioning – How are we encouraging students to come together as a group and talking about the obvious? They may not know each other as well as they would like because of the virtual environment. There may be some adjusting to do with one another as groups return to more in-person activities. It is like being in a long-distance relationship for 18 months and are now moving into an 800 sq ft apartment together. There will be an adjustment period! We'll need to talk to one another. Past systems of hierarchy which provided structure have been disrupted. There is both some good and bad in this disruption. In all of this, there seems to be an opportunity to intentionally talking about how to come back together and the brand of the organization and group. Failure to do so may result in members leaving feeling they were sold a brand the wasn't truthful and authentic. Attempts to regain structure may result in negative power dynamics and an increase in bullying and mean girl behaviors. Those remaining will feel the pressures and stress of trying to push along and stay loyal.
These are not necessarily new or earth-shattering questions and thoughts. I believe the theme of at least the next academic year or two will need to be one of "back to the basics" to reestablish (or establish) some good habits and structures. With the numerous competing priorities helping students return to campus safely, it is easy for the things we know are important to get buried or placed on the back burner. Inspired by my summer backcountry Wyoming experience, my personal goals for this year are to keep it simple by going back to the basics while incorporating the needs of Gen Z into my work. I invite you to join me and welcome the opportunity to partner with you on solutions.