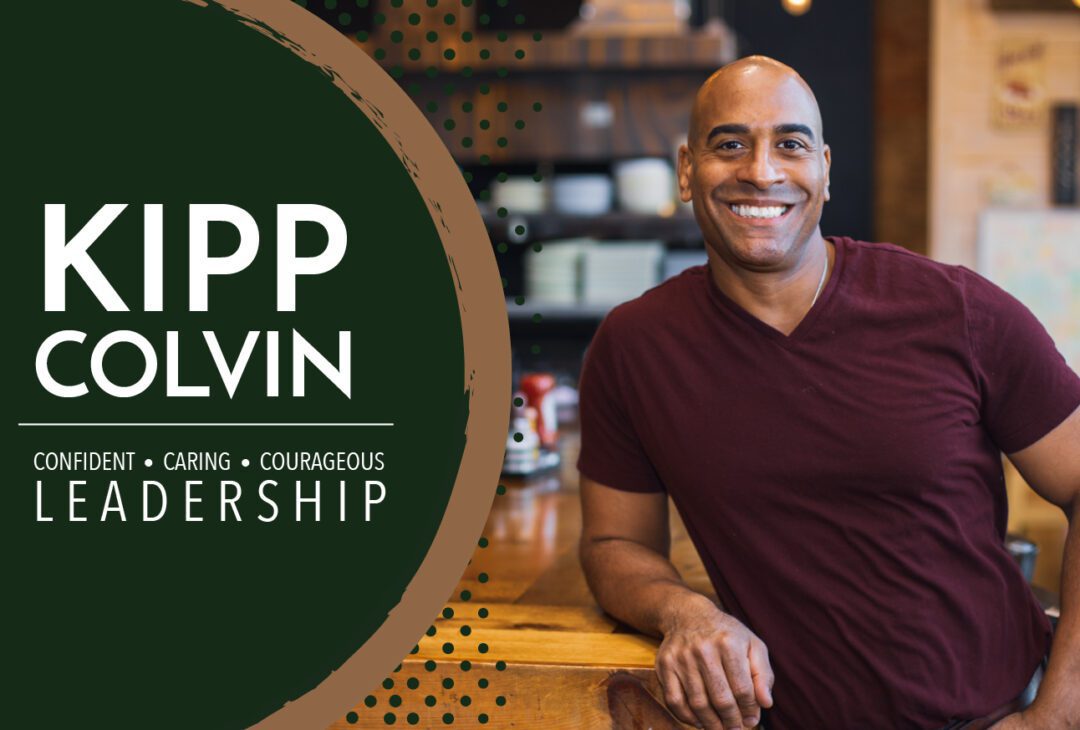 Kipp Colvin
Kipp Colvin believes that each one of us can impact our communities by becoming confident, caring, and courageous leaders in our everyday lives. At the heart of Kipp's work is empowering individuals to build relationships grounded in equity, intersectionality, and value-based leadership.
TOPICS
---
Authenticity
Leadership
Diversity, Equity, & Inclusion
Orientation/ First Year Experience
Organizational Development
Personal Growth
LGBTQ+ Focused
First Generation College Students
Values
KEYNOTES
---
Kipp Colvin helps students become confident, caring, and courageous leaders
Getting to know
Kipp Colvin
Kipp Colvin is an empowerment coach and motivator who uses his superpowers as a listener and connector to coach individuals and teams to achieve their goals. His work centers on utilizing every interaction to build relationships grounded in equity, intersectionality, and value-based leadership.
Kipp is the founder of Colvin Coaching, a client-centered space that allows people to discover their values, purpose, and dreams. He envisions a community (especially the most marginalized) having access to human development resources to become their most authentic selves.
Before Colvin Coaching, Kipp Colvin served as the Director of Communities and Volunteer Relations at the Human Rights Campaign (HRC). As Director, he created an inclusive volunteer experience for over 6,000 volunteer leaders for the most and was influential in establishing the HRC as the most prominent LGBTQ+ organization in the country. His early career include working in higher education, focusing on student affairs, leadership development, diversity, equity, and inclusion engagement. Kipp is a native of Ohio and currently resides in Baltimore, Maryland.
PROMOTIONAL MATERIALS
To help you promote your event with Kipp, CAMPUSPEAK has created promotional templates you can use. In this folder, you will find resources for social media, a promotional poster for printing, and press photos you can use for your event.
Link to Promotional Materials.
LOGISTICAL MATERIALS
Below you will find logistical resources for the day of your event with Kipp.
In-Person Event AV needs (PDF)
Speaking introduction (PDF)
SEE WHAT PEOPLE HAVE TO SAY About Kipp Colvin!
Kipp was amazing to work with. From our pre-event call, to interacting the day of, I really enjoyed working with Kipp. He understands what college administrators are faced with and can navigate the college development space like a pro. There was amazing messaging in his "The Caring Space" keynote, and his timing on our campus, and the way in which he presents his message is so accessible to students. Graduating seniors who were required to be there actually emailed following the event and thanked me for inviting Kipp to campus, and that his message really resonated with them.
— Jessica Flynn
Director of Student Leadership Development & Career Pathways, Illinois College
Courageous Leadership

Many students have titles that aren't leaders; many more students have the potential for leadership without ever having a title. Kipp Colvin believes everyone can be a leader whether they know it now or not. It starts with the courage to show up. Make no mistake; leading with courage is not easy.
In this presentation, Kipp asks five simple questions to jump-start the conversation with students on how to share their leadership stories. He will empower students to connect their values with what truly matters to them. Participants leave the room empowered and energized to step forward as leaders with courage and authenticity.
Learning Outcomes
As a result of attending the program, students will:
Understand their "Why" and connect to their courage to lead with purpose,
Examine five critical questions in developing a "leadership story" to inspire others,
Determine what values really mean and how they appear in our daily actions and decisions.
The Caring Spectrum | Becoming an Activist for Belonging

Think about that person who truly cared about your growth and development. Who was it for you? Take a moment to reflect on their impact on your leadership journey – both in times of success and in the face of challenges. Now, consider this: Are you making a difference in the lives of others? Are you inspiring and influencing those around you? Are you fostering an environment where people can be their authentic selves, where everyone can flourish?
Kipp Colvin believes we must strive for more than just diversity, equity, and inclusion. We have a greater mission – to cultivate a culture of genuine belonging. One where every individual feels valued, appreciated, and embraced for who they are.
In the presentation, Kipp Colvin takes students from being mere participants at the table to become the architects who build the table for others. It's about creating spaces that empower individuals not just to survive, but to truly thrive.
Learning Outcomes
As a result of attending the program, students will:
Identify practices for creating a welcoming and inclusive environment,
Learn how authentic relationships are essential for transformational leadership, and
Understand how belonging is critical to the success of organizational goals.
Confident to be Authentic
According to a study by the National Science Foundation, a staggering 80% of our daily thoughts tend to be negative, with 95% being repetitive thoughts from the day before. This relentless cycle of negative self-feedback can significantly impact our confidence. But fear not and get ready to break free from the chains of negativity and self-doubt, for Kipp Colvin believes that we can shift from negative thinking to thoughts of progress, purpose, and confidence.
At the heart of true confidence lies embracing our authentic selves and fearlessly showing up as genuine, unapologetic ones. In this keynote, Kipp Colvin will share personal experiences and insights that have shaped his understanding of authentic leadership. Students will explore the strength in vulnerability and how staying true to ourselves becomes a beacon of inspiration for others. Additionally, students will learn practical strategies and actionable tips on cultivating authenticity and fostering unwavering confidence within themselves.
Learning Outcomes
As a result of attending this program, students will:
Identify self-leading practices to improve confidence in leadership,
Learn how to express what it means to step into becoming a leader, and
Understand how our self-talk and thoughts are our most powerful tools to lead.
Speakers With Similar Speaking Topics