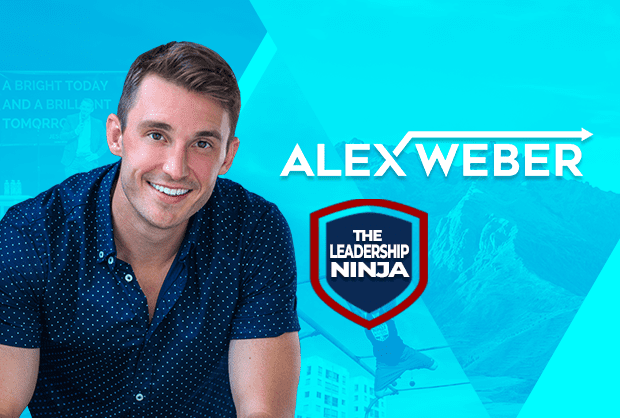 Alex Weber
Alex Weber believes you are unstoppable! Your challenges, fears, and failures are the gatekeepers to your success — Alex Weber has your keys. As an American Ninja Warrior and Award-Winning Speaker, Alex Weber inspires students to approach leadership with positivity to become a leader for yourself — and the people who need you!
TOPICS
---
Alcohol & Other Drugs
Athletics
Authenticity
First Year Experience
Fraternity/Sorority Life
Leadership
Masculinity
Motivation & Inspiration
Orientation
Personal Growth
KEYNOTES
---

Alex Weber, creating an unstoppable you!
Getting to know
Alex Weber
Alex's pedigree includes being an active World Record Holder, 5x TEDx Speaker, American Ninja Warrior, and one of the youngest coaches ever to be awarded US Lacrosse Coach of the Year honors.
As a professional comedian and entertainer, Alex Weber has hosted for NBC American Ninja Warrior, Discovery Channel, Under Armour, FX, and more.
Alex is an in-demand Keynote Speaker who brings years of on-stage experience to every event, transforming and empowering audiences live and through media around the world.
Impacting over 3.5 Million people, Alex has worked with major companies like ESPN, Goalcast, LinkedIn, University of Pennsylvania, Los Angeles Lakers, Georgia Tech, AirBnB, and more.
Alex's personal purpose is to empower each person to live a life they love, powered by their best self!
THROUGH CAMPUSPEAK YOU CAN PURCHASE ALEX WEBER'S BOOK AT A BULK RATE DISCOUNT.
6 Steps to take control of your life, conquer your challenges, and lead with resilience.
What would you do if you couldn't fail?
What could you do? Who might you become? What might you lead?
Here's the thing: everyone fails—but not everyone knows how to fail. So sometimes you may hit a setback and it makes you want to quit on your goals, or worse, quit on yourself.
Not on Alex Weber's watch! That's tragic and he's not having it for you. That's why he wrote this book: to give you his transformative, 6 Step FAIL PROOF System so you never give up on yourself, your goals, or the people who need you.

PROMOTIONAL MATERIALS
To help you promote your event with Alex, CAMPUSPEAK has created promotional templates you can use. In this folder, you will find resources for social media, a promotional poster for printing, and press photos you can use for your event.
Link to Promotional Materials
LOGISTICAL MATERIALS
Below you will find logistical resources for the day of your event with Alex.
In-Person Event AV Needs (PDF)
Speaking Introduction (PDF)
SEE WHAT PEOPLE HAVE TO SAY About Alex Weber!
Alex Weber commanded the stage and truly grabbed the attention of our student leaders for the duration of his presentation. He was engaging and impactful and utilized personal experience to challenge our leaders to reflect differently about their perspectives and goals. I would highly recommend Alex for future engagements.
— Joel Hermann
Sr. Director - Leadership & Community Engagement, Fontbonne University
Booking Alex was the best decision we ever made.
— Chloe Belangia
Executive Director, TEDx Georgia Tech
Alex was dynamic, relatable, and above all genuine. His presentation was insightful, funny, and captured the full attention of our leaders for the duration of the program. Personal stories resonate well with young leaders, and Alex drew from his trials and tribulations to provide clear and honest recommendations for leadership empowerment.
— Clay Coleman
Director of Education, Phi Delta Theta Fraternity
Alex brought a level of positivity, enthusiasm and optimism to our event that was simply magical. He will be the part of the conference that attendees remember long after it has ended. We will certainly look to partner with Alex again in the future.
— Brent Freeman
Conference Coordinator, Association of College Union International
Bursting with humor and positivity, Alex's ability to engage and impact audiences makes him a speaker you'll want
— Omid Shokoufandeh
Board for The University of Pennsylvania
The Unstoppable You
How do you create a meaningful life where you make the most of your opportunities and experiences? It all starts with Self-Navigation and Self-Leadership. Setting goals that actually matter to you, and then knowing how to make them happen! Success looks different to every person so we first need to get clear on the targets you are setting for yourself and why they matter to you — in your organization, in your relationships, and in your life. Then, it's all about cultivating your true self-belief, grounded confidence, and passionate perseverance! Because we all have fears, we all hit challenges, and we all face failures, but what we do next is everything. Based on his acclaimed debut book, Alex will give you the keys to a winning and healthy mindset, how to increase your confidence, and a system for stepping up into your life and achieving your goals! There's a lifetime of lessons, hands-on tools, and entertaining stories in this powerful, positive, and energetic keynote to give your community a long-lasting impact.
Learning Outcomes
As a result of attending this program, students will learn:
Creating true confidence, purpose, and excitement to step into opportunities and make the most of your experience
How we can fuel our growth and transformations past our Fears, Failures, and Challenges
An understanding of yourself, setting goals that truly matter, and learning how to support your well-being
How to inspire the best of ourselves for success in all areas of our lives
the keys to unlocking your true potential, empowering your passions, and performing your best in anything you do<
How to use challenges as a tool to increase self-belief, confidence, excitement, and purpose
Be A Man You Admire
There has never been a more critical time to step up as a Man of character, positivity, and progress. For yourself, for your community, and for the world.
This keynote starts with a simple question: Who do you want to be?
You are capable of becoming the Man you truly want to be: a Man that you admire. A source of positivity, strength, passion, kindness, hard work, love, integrity, and bravery. Alex was a 4 year Division 1 Athlete and a fraternity member as well as US Lacrosse Coach of the Year. He knows Men, and more so, knows that the definition of what it means to be a Man right now is up to 1 person: You. You decide who you want to be in this world, and no matter what has happened to this point, you are capable of becoming a Man you admire right now. You have a choice: you can either drag people down or lift people up, and that includes you too. Alex shares vulnerable, honest, hilarious, and insightful stories of his own journey and the Men he admires — and how you can learn and benefit from them all for your life. Alex gives you real-life steps you can use to show up as a person of high character, positivity, and progress for yourself, your community, and your world.
Alex Weber can also offer this program for co-ed audiences with a program entitled "Be Someone You Admire".
Learning Outcomes
As a result of attending this program, students will learn;
how to cultivate positive habits, and rid your life of negative ones.
how to make better choices, strengthen your character, and be authentically your best self
ways to communicate with Toxic Personalities, and how to shift this mindset to one of positivity and inclusion.
Actionable steps to lift one another up and be sources of positivity for ourselves and our communities.
Leadership for Positive Impact
Being a Leader is no easy feat. You have to make unpopular decisions, manage difficult personalities, all while cultivating a positive culture! So, how do we create Positive Impact in our Community, and also inspire our Members to build upon it and be their best? Alex Weber is an international Thought-Leader in Positive Leadership, and gives tools and tactics for creating positive impact in our lives, our communities, and beyond. No matter where you are at in your Leadership journey, this keynote will give you real-life, tangible ways of taking immediate and positive action in Leading your community. From overcoming your fears, to progressing past challenges as a group, to rallying our community behind our shared vision, and achieving our goals together. This is the perfect keynote for those looking to create meaningful, long-lasting, and positive impact in their community and their lives
Learning Outcomes
As a result of attending this program, students will learn:
actionable Leadership tools, and an invigorated confidence to become our best Leaders
tactics for leading difficult personalities, keeping positive during challenging times, and overcoming adversity as a group
understand how to creating a positive culture that empowers each member to take positive action for the vision of the group
how to lead when you need to be at your best, and other people need you
Alcohol, Drugs, and High Achievers
High Achievers are among the most at-risk for abuse of alcohol and drugs.  Whether it is dealing with the high-pressures, demands, depression, or just wanting an escape and some fun, High Achievers are balancing a lot, and our use of alcohol and drugs can sabotage our success and lead us to hurt ourselves, people we care about, and our communities.
As a Division 1 Athlete, Fraternity member, and now Award-Winning Speaker & American Ninja Warrior, Alex Weber understands the role alcohol and drugs play in our college lives and, more importantly, how you can create a relationship with them that aligns with your success, and doesn't rob your success away from you.  Alex gives an honest, vulnerable, and relatable talk about Alcohol and Drugs in the lives of High Achievers,   filled with real-life tools, tactics, and strategies so that you can be in the driver's seat of your decisions and hit the mark balancing achievement, fun, and responsibility.
Without guilt or shaming, Alex honestly talks with audiences about the impacts of our choices and vulnerably shares stories that linger long after the keynote and into those moments when your choices need to be made. All with some laughs, fun, and positive energy to make this experience stand out and stick for the students. This keynote will put you in a position that leads to fun, fulfillment, and feeling genuinely good about yourself, your life, and your future.
Learning Outcomes
As a result of attending this program, students will learn;
understand the severity  alcohol and substance can have on their life

practical tools, tactics, and strategies for handling intense moments

how to balance achievements, fun, and responsibility

stories that stick with audiences long after the keynote and into the choices in their lives

about limits and "danger zones" – and how to handle them

how to develop their individualized Plan for Success that you can take into your real-life moments and set yourself up to succeed
Speakers With Similar Speaking Topics