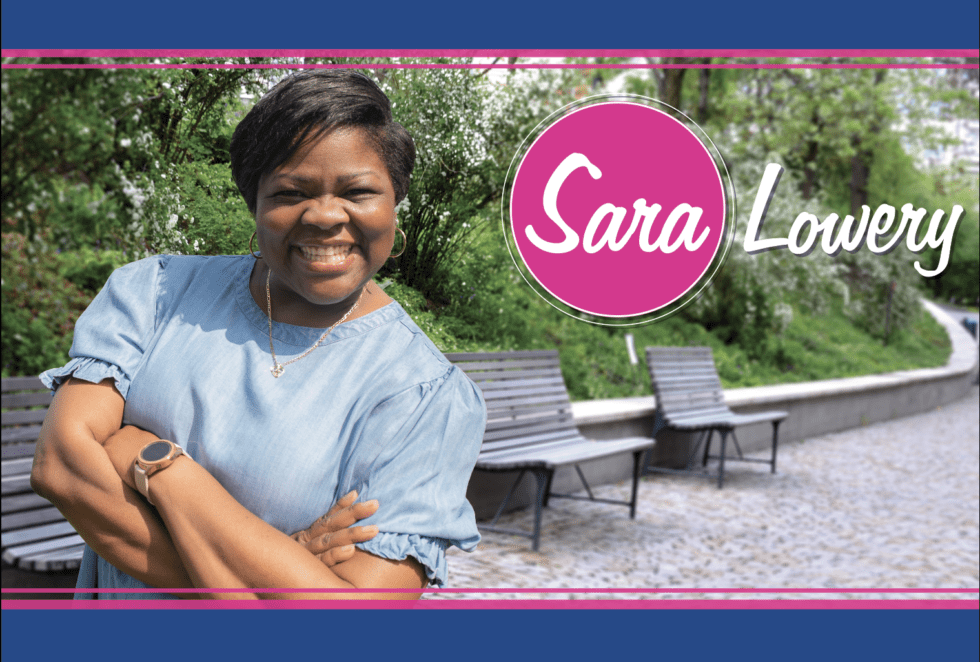 Sara Lowery
Sara Lowery believes in the power of happiness. She brings a fresh perspective, high energy, and passion to her work as she inspires students to lead stronger, ask difficult questions and embrace their happiness in their daily lives.
TOPICS
---
Leadership
Mental Health
Diversity, Equity, & Inclusion
Hazing
Organizational Development
Communication
Self-esteem
Values
Women's Empowerment
KEYNOTES
---
With high energy and passion, Sara Lowery inspires students to lead stronger.
Getting to know
Sara Lowery
Sara Lowery is a professional speaker and Associate Director of Fraternity and Sorority Leadership & Learning at the University of Delaware. She speaks to audiences about authentic leadership, staying mentally healthy, and promoting real love is SELF LOVE. As a speaker, she is doing the two things she loves the most: encouraging audiences to think critically about their leadership journeys and inspiring people to be their best even if they think their walk is a mess! She has shared her messages with many colleges and institutions nationwide.
As a campus-based professional for over 15 years she works to develop student leaders in supporting them navigate through their collegiate experience(s) as well as professionals in inspiring them to continue to think about crafting up-to-date WHYs, how to reach their goals, and learning how to celebrate the results which all make and encourage stronger leaders. She enjoys every opportunity which she has to interact with, teach, and learn from students.
She has received many awards and accolades but that is not the most important thing that she wants you to know. She wants her audiences to know that she has a sense of urgency to see students be the absolute best version of themselves. Mentoring has a special place in Sara's heart because she admits daily that if there was no one to help support and show her a better way, she would have been on a much longer road of discovering her true self as discovering true success.
Along with working in higher education she also works for her personal company and brand EMPOWERING U, which was created to be in different venues to work with young girls and younger adult women in motivating themselves to be motivating and inspiring to themselves even in the dark moments.
Originally from everywhere but nowhere, this military brat currently resides in Salisbury, Maryland, identifying a combination of Maryland, North Carolina, and Philadelphia as home. Sara received her undergraduate degree in Philosophy from Salisbury University and her Masters of Education degree from Texas Tech University.
PROMOTIONAL MATERIALS
To help you promote your event with Sara, CAMPUSPEAK has created promotional templates you can use. In this folder, you will find resources for social media, a promotional poster for printing, and press photos you can use for your event.
Link to Promotional Materials
LOGISTICAL MATERIALS
Below you will find logistical resources for the day of your event with Sara.
In-Person Event AV Needs (PDF)
Speaking Introduction (PDF)
SEE WHAT PEOPLE HAVE TO SAY About Sara Lowery!
Sara was amazing and really reached our students. She had them laughing, crying, and nodding along to everything she was saying. Our students didn't want the presentation to end. She really treated them as equals, instead of lecturing at them. She has an amazing, welcoming attitude that is genuine and can be seen in everything she says. I 100% recommend her!
— Haylee Malone
Director of Student Life, LSU Alexandria
Sara is exactly what you need if you are looking for a speaker with positive energy, passion, and student connection. She delivered more than just a welcome at our extended orientation event, she helped our students find each other! Sara was such a joy to work with and I look forward to staying connected with her for future events.
— Jen Rentschler
Director, Student Involvement, Radford University
Sara did a wonderful job connecting with the students. She was able to be vulnerable by sharing her story, which in turn allowed students to feel comfortable to open up to her. She was phenomenal!
— Danielle Davis
Texas A&M University – Commerce
Sara told stories that helped the students picture what she was talking about, and she interspersed that with information and advice. She combined humor and sincerity in just the right combination, and her presence and spirit really lept off the stage. It was phenomenal!
— Jesse Douglas
University of Mount Union
Sara was amazing! For such a heavy topic, she had great energy. She was relatable, able to provide helpful tips, provided great examples. She was authentic and intentional in every word that she spoke. She gave me goosebumps.
— Brittany Ferguson-Mike
Assistant Director, Campus Programs, University of Akron
Sara Lowery did an AMAZING job at Long Beach City College. She connected great with students and staff and allowed for Mental Health to be de-stigmatized.
— Sergio Grimaldi
Healthy Viking Coordinator, Long Beach City College
Sara recognizes presenting is a tool for student learning as she effectively challenges them to: foster their curiosity, enhance their self-understanding, create a civil community, become courageous in their leadership…to align strengths with needs of both.
— Byron Hughes
Virgina Tech
Sara Lowery was highly professional and extremely engaging. Before the event she asked me what topics I hoped she would cover and integrated my feedback into the event. The students enjoyed her because she told great example stories and used engaging technology while still keeping things simple. Sara Lowery is someone I know I could bring back to the College of Wooster because the students were buzzing about her as they left.
— Kristin Tripi
Associate Director of Greek Life & Leadership, The College of Wooster
Lorin Phillips is an expert in engaging all those who hear her speak. She celebrates beliefs, validates values, and challenges, then rectifies, the disconnect caused by poor decision making, thereby enhancing effective and impactful risk management. Audience members react to her and know they can change their corner of the world.
— Laura Sweet
East Carolina University
Sara is wonderful! She brought so much energy to our staff while inspiring them to be the best versions of themselves. She motivated us to define our "why" and live it in our actions. Our student leaders are excited to engage their peers and make our campus a place where students find success.
— Mark Turnbough
Assistant Director of Residential Education, Bloomsburg University
How to Create Intentional Moments By Asking "Why?"
Many times, students are challenged in working with their club or organization to gain their desired results. When the challenges become too much, it is easy to forget your mission and lose the motivation to push forward. Sara Lowery has worked as a campus-based Higher Education professional, encouraging and pushing student leaders to achieve success.
Through her high-energy keynote, Sara challenges student audiences to ask themselves one simple question: Why? Why are you involved in this organization? Why do you want to push your organization further? Why should you persevere when challenges come your way? Even when things are going great, sometimes it is important to take a step back to remember why you joined and why it matters.
Sara's unique blend of humor, energy and experience help her guide students to build a foundation that helps them remain motivated to continue moving through "the tough stuff" that comes their way. She helps show students that only by moving forward can you achieve greatness.
Learning Outcomes
As a result of attending this program, students will learn:
how to create a framework to understand the values and mission statement of their club or organization,
how and when to ask "why?" to be an effective leader with a sense of purpose and value within their organization, and
ways to apply business principles that have been proven effective for success and greatness.
Shining a LIGHT on Mental DARKNESS
Ever feel like life is more than you can handle? Or feel so alone? Or that no one really understands you? No matter how hard it may seem when DARK moments take over your life, LIGHT is always around the corner. It may not be immediate, but with time LIGHT will appear and those dark moments will begin to fade away.
As noted by the Center for Collegiate Mental Health, nearly 1 in 5 university students are affected by depression and anxiety. Sara Lowery was one of those students. In this personal keynote, Sara shares her story in hopes that students can learn how to reach out for support during those dark times and search for the light. Students will learn their intrinsic value and strategies to fighting through the feeling of disappointment, fear, and yes even loneliness. Sara will challenge students to really look around to not only find someone whom they can lean on, but also who might need help finding their mental light.
Learning Outcomes
As a result of attending this program, students will learn:
how to be more comfortable reaching out for support
how to take personal responsibility by taking actions to improve their health, and the health of others
the skills needed to accessing and utilizing healthcare resources on campus and in the community
how to increase self-awareness, confidence and communication skills
I Don't Know What To Say
Have you ever heard someone say something offensive that surprised you? A well-intended, statement or question that still caused irreparable harm personally and professionally. Maybe that someone was you? Communicating your thoughts and opinions can be really challenging, but it can become even more intimidating when you are talking about race, sexuality, gender equality, or any subject matter around diversity and inclusion. The nervousness to not offend or potentially make diversity matters worse has people saying "I Don't Know What to Say".
In this program, Sara Lowery explores these fumbles and creates a safe environment to engage in conversations that will be meaningful and impactful for both parties involved especially when it comes to diversity and inclusion. Participants will talk about how understanding the difference of intent versus impact can help you create a safe environment to engage in some challenging and somewhat difficult conversations. This is not your typical Diversity, Equity, and Inclusion program, it's a program that bridges differences with respect and grace leading the way.
Learning Outcomes
As a result of attending this program, students will learn:
new perspectives on being more open to diverse populations
how to navigate the ambiguity and complexity that comes with understanding others
how to ask questions that will require courage and/or humility
the power of listening while withholding judgment about others and their thoughts and or opinions.
Would you Follow You?
Often times we are put in situations where we have to decide if we want or can follow the leaders that are before us. But how often do we look in the mirror and ask ourselves would we follow ourselves? Do you have the talents and skills and you admire in leaders? What characteristics are you lacking?
In this leadership keynote, Sara Lowery takes an old business approach and reframe it for a more personal leadership approach by starting with assessing ourselves first to determine if we are being the best leader that anyone would want to follow at any time. Sara gives tips and strategies on how to overcome that fear and create the largest impact as a leader.
Learning Outcomes
As a result of attending this program, students will learn:
complete self-assessment using an old business assessment tool,
reflect about their internal leadership/life experiences and how it may or may not influence their current leadership practices, and
learn how to create a vision that can be shared with any organization they are leading.
Not Us, Not This Time: A New Approach to Hazing Prevention
Sara Lowery believes just because "they" said that every line/class/family had to GO through it, does not mean your class/line/ family can't GROW past it!
This is not your typical hazing presentation. We can review the definition of hazing with new members. We can educate chapter leaders on the dangers and potential punishments for engaging in the behaviors from suspension, expulsion, or even being arrested. But yet, this doesn't seem to be enough to stop hazing in our communities.
Sara Lowery's program Not Us, Not this Time approaches hazing prevention by challenging students to create a sense of brotherhood/sisterhood without the hazing drama. Let's have the conversation about shifting from endangering the lives of individuals to building a sense of belonging and acceptance. Lets' create an experience where members are strengthened, empowered, and live up to the original intentions of our founders.
Learning Outcomes
As a result of attending this program, students will:
have an understanding of how to create bonds without the use of hazing practices,
be challenged to think of innovative ways to create a sense of belonging as well as brotherhood and sisterhood,
be aware of the value that new members can bring to the chapter if they are not torn down and brought in and educated properly.
Speakers With Similar Speaking Topics