Women's Empowerment Speakers to bring in for Women's History Month
Every March, people in the United States celebrate the achievements and history of women as part of Women's History Month. Women's History Month is an annual declared month that highlights the contributions of women to events in history and contemporary society. We honor all of the women who have made such a difference in this world.
To help celebrate this month, we have compiled a list of speakers to bring to your community to help start the celebrations. These exceptional individuals hail from diverse backgrounds and possess a wealth of experiences, sharing their distinctive insights and stories to make a lasting impact on audiences.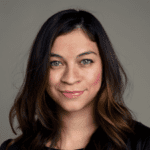 Tianna Faye Soto is a Puerto Rican, Jamaican-Chinese storyteller. She empowers students to care for their mental health and wellness and face the college journey with confidence. Her work is heart-centered, service-driven, culturally informed, and rooted in empathy. She encourages students to celebrate and embrace their backgrounds and be proud of their unique stories. Her program "She Who Runs with Wolves" is a great program for Women's History Month.
---
Alexa Carlin is on a mission to make a difference in at least one persons life every single day. Through her authentic energy and impactful stories, Alexa empowers students to push through obstacles, develop a positive mindset, and build unwavering courage and confidence.
---
Sara Lowery believes in the power of happiness. She brings a fresh perspective, high energy, and passion to her work as she inspires students to lead stronger, ask difficult questions and embrace their happiness in their daily lives. Sara encourages audiences to think critically about their leadership journeys and inspires people to be their best.
---
Brittany Piper overcame one of the most horrific events any of us could imagine: sexual assault. Now as a leading national expert on sexual violence and prevention, and a trauma trained practioner—Brittany uses her story of adversity, resilience and triumph to empower and inspire audiences to take brave action in their own lives and communities.
---
Cheyenne Tyler Jacobs creates a space for students to explore their voices. She leads with the authenticity of her own story of being a sexual violence survivor, neurodiverse, Black woman to remind others that they are not alone and deserve community and safety. Using a combination of storytelling, spoken word, and research data, she hopes to inspire others to become the advocate and resource first for themselves and then for others.
---
Angela Gargano is a 5x American Ninja Warrior and founder of Pullup Revolution, which has helped 500+ women complete their first pull-up. She's a fierce athlete whose mission is to revolutionize how people feel about their bodies and helps them develop a winning mindset to overcome life obstacles and barriers with grit and determination.
---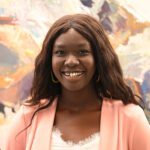 Mary Maker is a South Sudanese refugee activist who inspires audience to value education and change their world. Through the craft of theatrical storytelling, Mary Maker shares her refugee journey to create a ripple effect of impact to develop a world of globally educated individuals that are empathetic and community driven.
---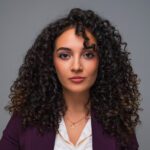 Jennifer Borrero is a first-gen LatinX activist that believes all people deserve to feel cared for, seen, and heard. She tells stories of her experience working on international human rights issues and lessons learned along the way. Through these stories Jennifer inspires students to realize they are capable and qualified of creating change even if they are still figuring out their own journey.
---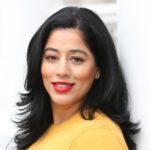 Michelle Enjoli believes in the power of the entrepreneurial mindset. She helps students uncover their unique value to authentically connect and own the responsibility for their growth and development. Michelle is a career development coach and keynote speaker who teaches strategies to connect and own your career growth and development successfully. Her programs help young women embrace their strengths and use their differences to standout amongst the crowd.
---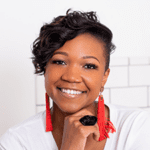 Linnita Hosten is an award-winning student success strategist who empowers students to identify and go-after their DREAM career. She is a high-energy edutainer who provides content-packed and research-based success strategy programming for organizations, universities, and community groups; and group coaching to students.
---
Talia Pollock is determined to strengthen students' ability to live boldly and reach their highest potential by building their confidence to act bravely — even when it's uncomfortable.
---
Hailey Yatros is on fire to bring people together in an authentic way. In a world dominated by social media, she brings students back to the basics on ways to build meaningful connections and lasting relationships; the power of presence.